A Wrap-up for Girl's Wrestling
The girls wrestling team has just closed out another exciting season! Our Lady Rams moved from tournament to tournament and gave it their all in every match in the hopes of being able to compete and win CIF. 
The spring team's year began by welcoming its new wave of girls and teaching them to work hard for maximum results. Helen Martinez, a COMPASS junior, who is a member of the girls wrestling team states, "They're showing good progress. Their attitude coming in shows that they're gonna do something!"
The girls are sorted by weight class to determine who they're going to wrestle against for a fair match. During a tournament or match, each individual girl goes against a different girl from the opposing team. A girl wins a match by pinning her opponent down for three seconds. The girl will continue to fight other girls in her weight class until she wins overall. 
While fighting for their weight class, the girl fights for her school. The amount of wins she gets provides more points for her school's team. Whoever wins the match gets a point for their team. The team with the most wins from all weight classes is the overall winner of the tournament or league.
Coach Lovato focuses on teaching strategic moves, "There's a lot of intricate details needed to complete the move correctly and get an effective move," Martinez quotes. "It's always great to have those moves in the back of your mind if you're stuck in a situation and need to get out." 
As said by Martinez, a bar is set at the beginning of the year which one must work up to. "Then there's this one tournament that just changes it all." 
After that one tournament, strategy comes into play. A wrestler needs to begin thinking about their moves ahead of time, instead of just going into the match hoping they will come out the victor and wrestling purely in the moment.
Once the season ends, Moore League transitions into CIF. "These people are going for your same goal, and that is heading to state. So, they're putting in everything," Martinez remarks. Regarding Moore League, "I think about ten of us won Moore League!" said QUEST senior Destiny Moreno.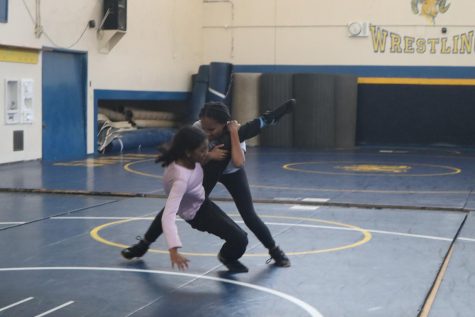 "I think [the girls] did pretty well. We had almost a full-weight line-up on the team. We only lost two duals. It was pretty impressive to watch six or seven of our girls represent the team and win matches," said Mr. Lovato, coach of the boys and girls wrestling team. The team also won the League for the 13th year in a row!
As for the future of the team, Moreno believes that "The future of the team is still building up, as we are growing our team, but I believe with our coaches and their dedication, the team will bring even bigger titles." 
The future of the team looks bright for our Lady Rams, and for now, all we can do is anticipate the tremendous achievements the team will make next year.