Let's Talk About #BookTok (Specifically LightLark)
#BookTok, TikTok's subcommunity of all reading-related content, has recently unveiled controversy regarding the young adult fantasy novel LightLark.
In early March of 2020, Alex Aster, the author of LightLark and Curse of the Witch, transformed into a #BookTok sensation by advertising a synopsis of LightLark. The viral TikTok enticed all eager readers and landed Aster a six-figure publishing deal with Amulet Books. Admirers of the genre were instantly fascinated by the premise of its promotion as A Court of Thorns and Roses meets The Hunger Games. 
The story is set upon an island known as LightLark that appears every 100 years to host the Centennial, a high-stakes game that only the rulers of six mystical realms are allowed to play. Isla Crown, the main protagonist who is cursed to kill anyone she falls in love with, must partake in the game in order to free her realm from their shared burden. 
Aster captivated the attention of many by uploading TikTok's that promised her readers certain romantic tropes and quotes. She detailed her rocky journey with losing several literary agents before acquiring her viral fame. Her process to publication was promoted as a story of resilience and determination. 
In July of 2022, Aster revealed on TikTok that she landed a movie contract with Universal Studios to adapt LightLark. 
According to BuzzFeed News, Aster reported the outcome of the movie deal as "more zeros than I've seen in my life."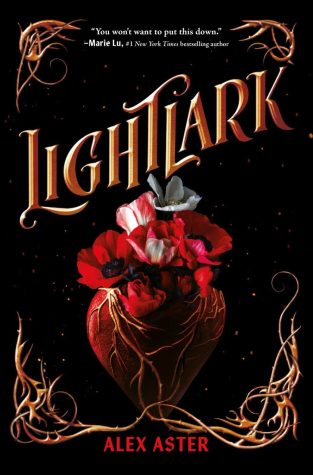 As the publication date of LightLark began to steadily approach, those apart of the #BookTok community began to speculate the credibility behind Aster's rags to riches story. Questions regarding whether or not she was dramatizing her supposed struggles while downplaying her privilege began to surface. In the midst of these assumptions, TikTok users found out that Aster's family owns a car dealership and that her twin sister, Daniella Pierson, is one of the richest women in the U.S. 
Havoc immediately unraveled as users of the app attacked Aster for falsely advertising herself and her privilege. The day LightLark officially published on August 23rd, angered followers took this conflict further by review bombing the book until it reached a 2.5 stars on GoodReads. 
In response to all of this controversy, COMPASS senior, Sabrina Stahl, voiced her stance by stating, "Aster obviously had some connections. She should be called out but there are different ways to view it. The author could be terrible but the book could be amazing, while the author could be amazing but the book could be terrible." 
Ultimately, I do not stand for Aster falsely advertising herself and her book. I believe she should have been upfront about her privilege and connections. On the other hand, I believe that the review bombing culture of #BookTok is unethical. Only those who have read the book and gathered a concise opinion should hold the power to conduct such a low rating.