Softball Swings… And Knocks it out of the Park!
Our girl's softball team had quite the season! For the first time in Millikan history, the team, led by coach Michelle Lehr, won the Moore League Championship three years in a row.
"We had a historic season," said PEACE junior Katie Knarr. 
Knarr was named the Moore League Co-Player of the Year, having the highest average in league play between Millikan, Lakewood, Wilson, and Poly.
Energy was high throughout the season for both the team and its supporters, especially during their two matches with our school's rival Lakewood.
Knarr said, "The rivalry is intense and the crowd that comes out to those games is awesome." Millikan won both matches 8-3 and 7-6.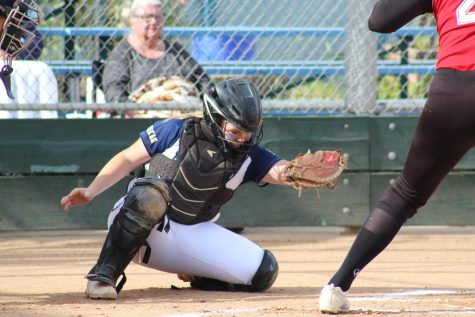 Ultimately, it's the bond between the players that gets them through tough times during the season and enables them to succeed.
"These girls are by your side whether you are having the best day or worst day," Kharr said. "We are always there to pick each other up and to celebrate each other when we do good."
The team has high hopes for next year. "We want to bring home the 4 Peat," said Kharr.
Anyone interested in keeping up with the team should follow their Instagram.