The Dirty Bathrooms
How have your bathroom experiences been here at school? Since the start of last school year, there has been a discussion about how the bathrooms have been here at school. Going into both the boys and girls bathrooms at Millikan, you will find vandalism on the walls, dispensers ripped off the walls, the ground being dirty and wet, and toilets clogged up with not just toilet paper, but with other items that are not meant to be disposed of in toilets. 
However with the addition to all of the uncleanliness in the bathrooms, there have also been a handful of students who go into the bathrooms, both boys and girls, just to smoke things like weed and vape pens. Usually multiple people at a time would be in the bathrooms to smoke or vape.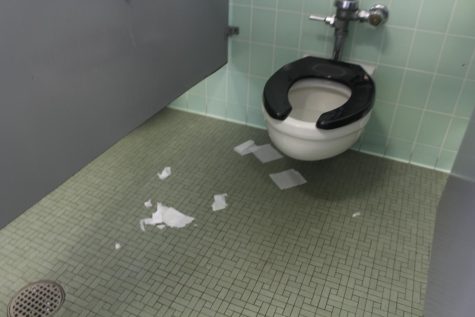 The bathrooms here are unsanitary, unsafe, and bad environments.
So the question is, should the school staff step up and do a better job in keeping the bathrooms clean, or are the students at fault for not taking care of the bathrooms?
I see this as the students being at fault. 
The way students treat and act in the bathrooms is not correct by any means. The staff shouldn't be taking care of stuff like vandalism in the bathrooms. I definitely think that students have the responsibility to treat the bathrooms here a lot better.
The school's Planet Supervisor, Theourn Lorn says, "The cleanliness factor may be part of my job but there is only so much that janitors here and myself can do."
However, there are people who may think otherwise. A student who would like to remain anonymous says, "I believe that when it comes to the cleanliness, the students aren't really at fault. A simple way that the staff can step up to keep the bathrooms clean is if there are always trash cans in the bathrooms that are not overfilled."
"I really don't see the cleanliness in the bathrooms getting better. The only way that the bathrooms can get better is if the students here would take care of the bathrooms the right way," says Lorn.
What do you think about the bathrooms here at Millikan? Do you think the bathrooms here should be more taken care of? If so, does it lie under the students or the janitors? Or do you think there is nothing wrong with the bathrooms here at Millikan.