Trial of the Decade – Depp vs Heard
Johnny Depp is innocent. In 2019, Johnny Depp sued his ex-wife, Amber Heard, for defamation of character because of The Washington Post article Heard wrote about Depp in 2018 about being a survivor of domestic abuse. Depp and Heard went to court in 2020 – the former arguing Heard committed abuse, the latter arguing that Depp was the abuser. He lost the 2020 trial, but they're back in court as of April 11, 2022, with a $50 million lawsuit from Depp and a $100 million lawsuit from Heard. The trial is taking place in Virginia due to the anti-SLAPP (Strategic Lawsuit Against Public Participation) laws.
Johnny Depp, the 58 year old actor who starred in franchises like Pirates of the Caribbean and Fantastic Beasts, started off the 2022 trial. For the first three weeks of this case, he provided evidence such as photos of himself with bruises on his face. He also provided multiple witnesses, including Kate James (Heard's former assistant) and Dr. Shannon Curry (a forensic psychologist). When Depp took the stand, he recollected the domestic violence he suffered from Heard, as well as past abuse he suffered from his mother.  
Amber Heard, the 36 year old actress who starred in Aquaman, took the stand on week four of the trial. She showed photo evidence of injuries on herself, such as a bloody lip, to prove Depp abused her. Heard also brought multiple witnesses to testify, such as Dr. Dawn Hughes (forensic psychologist) and Whitney Heard Henriquez (Heard's sister). She accused Johnny Depp of being a drug addict who physically and sexually assaulted her.
"I think it's sad that Johnny had to go through being abused for many years and had to do another trial because Amber was friends with the judge from the first one. There was so much evidence showing that Johnny was a victim of abuse and Amber was lying about it," stated Denise Garcia, QUEST junior. 
Attorney and Millikan student-teacher Eric Reynolds said, "I think the jury has a hard job. They're both actors, which is why you have to assess if they're acting and putting on a performance or if they're really feeling these emotions." He added, "I'm not sure who is going to come out on top for this one, if either one. It could be that the jury doesn't decide in favor of either one."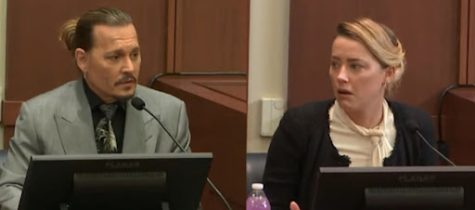 The jury began deliberating Depp's claims of defamation after the closing arguments took place on May 27.  They released their verdict on June first, announcing that they came to the unanimous decision that Johnny Depp was innocent. Johnny Depp was awarded $10 million in compensatory damages and $5 million in punitive damages, while Amber Heard only received $2 million in compensatory damages. The truth was finally revealed, bringing this four year long legal battle to a close.