Sinking Baskets in the New Season
The girls basketball season has started and the Lady Rams are ready to rumble! According to Captain and QUEST senior Amy Walker, the last time Millikan Girls Basketball won the Moore League Championship was in 2008. 
Their first Moore League game for the current season was set to be against Lakewood on Dec 13, but was unfortunately cancelled last minute. According to the Millikan Basketball Team manager, Monserrat Velazquez, the game was cancelled due to a Lakewood team member turning in a positive COVID test.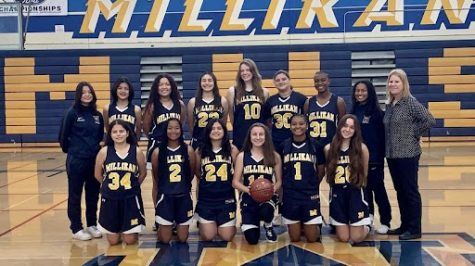 Team captain Amy Walker says that her two main goals for this upcoming season is to beat Poly and claim the Moore League title for Millikan. Walker is confident about the team's success this year, saying that "the team has the best chemistry," and "as long as we do our best on defense and get as many rebounds as possible we should be good." 
Center players Emily Piper (sophomore PEACE student) and Saryna Bermudez (freshman PEACE student) say that they "want to make the three seniors on the team proud" this season by starting off each game with confidence and keeping the team's good communication and chemistry both on and off the court. 
Like every other year, Coach Morgan is working hard to become Moore League and CIF champions, but she is also hoping for the team to have "a chance to gel" after a long break due to COVID.
Morgan says that "we have always had a very competitive, driven team, and it won't be any different this year. They're a great bunch of kids who are enjoyable to be around, and it's great watching them get to know each other on and off the courts." 
If you want to catch any of the upcoming Millikan Girls Basketball games, look here for a complete schedule of everything ahead!