Hi Rams! Welcome back to Behind the Music. Throughout history, many different mediums have been used to listen to people's favorite tunes. From live performances to phonographs to cassette tapes, the way we listen to music evolves with time. 
In the current digital age, we can access music wherever we go; the most prominent form of listening to music being streaming platforms such as Spotify and Apple Music. However, physical forms of music such as vinyl records have not completely died out.
Once a thing of the past, vinyl has once again become a sensation with the youth. Taking on fun shapes and colors, these "old school" records have become a fun addition to large and small collectors.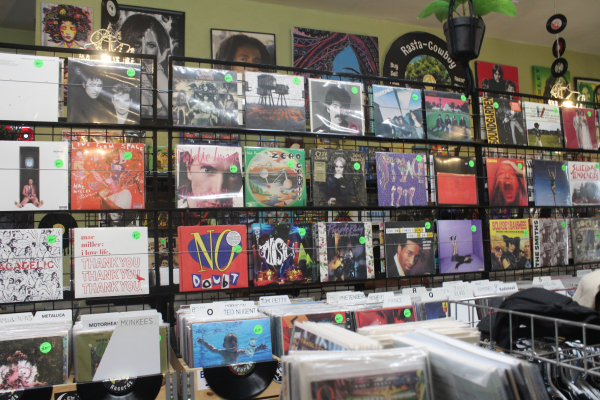 COMPASS senior Carissa Castaneda has a record player and buys vinyl. "I have old ones and they're super cool to listen to," she said.
Vinyl records are flat discs that store sound through grooves. This can be used to play full-length music albums as well as single songs. These records were most popular in the 1950s to the 1980s, but have now regained popularity.
According to Billboard, vinyl sales have increased for the 17th year straight. Over 43 million "vinyl albums were sold in 2022 (up 4.2% from 41.72 million in 2021)," writes Keith Caulfield, writer for Billboard. 48% of these records were bought in independent stores.
One appeal to buying vinyl is the community that surrounds it. Many small music stores still sell these records, giving others the opportunity to explore shops and meet new people there.
Long Beach has its fair share of small businesses that music lovers can explore. These include independent record stores such as Bagatelle Records, Dyzzy on Vynyl, and Fingerprints.
Vinyl records provide a gateway into a community of music lovers. Whether you're browsing through a music store or sharing the most recent record you've listened to, vinyl is another music outlet that connects many.