Nadia Mejia, a PEACE sophomore, has accomplished some astonishing things in only her first two years as a Ram. Mejia is the top runner on the Millikan Girls Cross Country and Long Distance Track Teams, running anything 400 meters or longer. 
As a freshman, Mejia broke the school's 3,200 meter record, running this approximately two mile race, in only 11 minutes and 5 seconds. This year, Mejia broke not only our school's record but also the three mile course record at El Dorado Park, with a time of 17 minutes and 26 seconds. Mejia feels very accomplished being "up there" as an underclassman.
Her biggest supporters are her parents, Ms. Ibarra (the coach here at Millikan), and all of her teammates. They all do their best to motivate her and push her past her limits.
"The team was very supportive," said Mejia.
Mejia has been running for about five years, starting around when she turned 12-years-old and has loved it ever since.
"I just started to see the medals and trophies come in and it got me all excited," said Mejia. She now envisions herself continuing and improving even when she gets to college.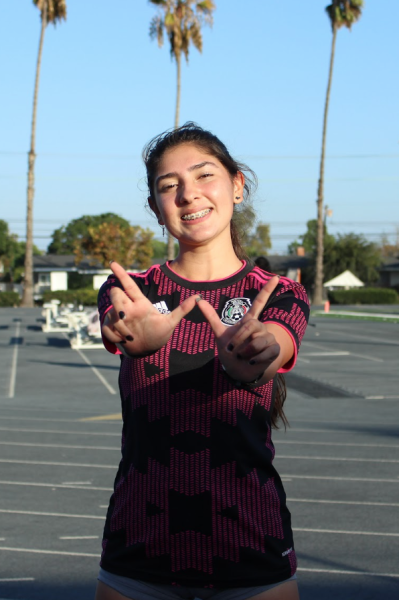 Although Mejia does not know what she wants to study yet, this talented young lady plans on going to a good college and hopefully earning scholarships. In the future she would like to have a stable job and a united family full of love and support similar to the one she grew up with.
Mejia finds music to be a huge motivator and feels it helps her get in the zone. She enjoys various genres of music like metal, rock, indie, and soft core. Some of her favorite artists include "System of a Down," "The Weeknd," "Mac Demarco," "No Doubt," and "Lana Del Ray." 
She also tends to go for walks before any competition. When training she enjoys having easier days which for her happens to be a nine or ten minute pace, but also enjoys pushing herself until she drops to the ground.
When Mejia is not running, her favorite hobbies are being out in nature and listening to music.Mejia has shown great strength and drive and she is likely to accomplish many more outstanding things both in our Ram family, and after her journey here at Millikan.