Weightlifting is one of the many amazing classes Millikan has offered for years for students to stay active along with PE (physical education), dance, and various other sports, but it does not seem to be talked about enough. This class is available only to juniors and seniors. 
It was not a surprise to find out that the weightlifting class is occupied with majority males. According to Mr. Schofield, one of Millikan's PE teachers, boys soccer coach, and weightlifting teacher, only three girls are currently enrolled. One girl for each of the periods of weightlifting. The question comes down to why aren't more girls taking weightlifting?
I believe a reason for this could include the intimidation that comes from joining a place where you are the minority.
QUEST junior Melia Kukahiko said, "I would have considered it before when my brother was here, but now it is a little more uncomfortable." 
Similarly, SEGA sophomore Jacob Avalos feels that boys scare girls away.
"I think a girls [only] weightlifting class would be good and help them [girls] feel more comfortable," said Avalos.
To exemplify, there is also a common experience in the world of sexual harassment in the gym. According to an article published in 2022 in USA Today, "A recent survey of 900 women found 71% of them changed their workout routine due to a negative encounter such as being watched, being followed around, or due to unwanted physical contact." 
This leaves the question of whether the issue really is the lack of classes or is it the behavior of men that needs to be further examined and discussed. Knowing that this factor is less manageable, the school should make better efforts to separate the boys and girls in the same way they do for sports. 
Ms. Mashburn, Millikan's head counselor, offered some insight on the limitations of starting a new weightlifting class. She explained the process that is currently in place from Oct. to Nov. where teachers and staff have the opportunity to fill out a course proposal form and offer the course they are interested in teaching along with a few other requirements. From there it goes to the master schedule team that decides if they can or can not support it along with the time frame that would be the best.
Mashburn also discusses some of the other implications and why she believes it is not a possibility in the near future.
"There are a certain number of teachers and we can't have Schofield teach that many weightlifting classes because we need him for PE," said Mashburn. "If we don't have enough funding to hire more teachers we need to defer," she added.
Mr. Brown, a new assistant principal also gave some insight on the course proposal form process. "A very important component in building a master schedule is student requests," said Brown.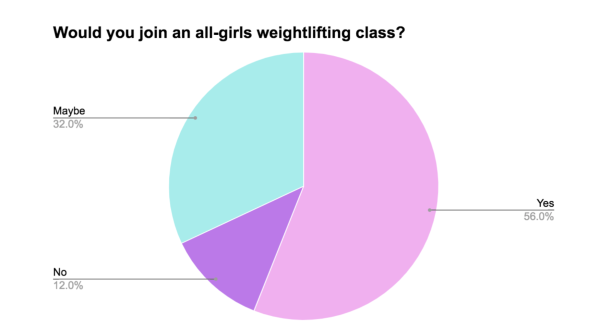 To get a more concrete representation of the views on campus, 50 girls were randomly selected during lunch where 56% felt they would join an all-girls weightlifting class, 32% responded maybe and only 12% felt it was not for them. Knowing that more than half of the surveyed girls are interested, there should be a higher effort to accommodate adding an all-girls weightlifting class to student electives. Although providing this class would be the best way to ensure a more comfortable environment, setting strict boundaries in a co-ed class and making sure they are being implemented would be another efficient solution.
Mr. Schofield, the weightlifting teacher, also feels that an all-girls weightlifting class would be a good idea. He had discussed the idea of starting an all-girls class with administration and asked if it would be a possibility in the future, but a follow up was never made.
"I always ask [girls] to join, but throughout the years the enrollment has lowered," said Schofield. 
Weightlifting is a hobby that is continuing to grow and it should be a space that feels comfortable and inclusive for both boys and girls. Lifting weights has been proven to have many benefits like improved self confidence, increased resting metabolic rate, good movement patterns, improved bone mineral density, and a decreased risk of metabolic syndrome. Read the National Academy of Sports Medicine (NASM) article written by Nicole Golden to learn more. Despite the limitations, an all-girls weightlifting class would be a great addition to the school.