Fall sports season is coming to an end and we are so proud of all our athletes. Our Boy's Water Polo team closed the regular season in third place for Moore League, despite the injuries and setbacks they've faced. 
This year Head Coach, Randy Wright, and assistant coaches Kyllen Carlson and Gray Lange, who is Millikan's AP French teacher, have focused on increasing the challenge and playing higher level teams. Like all sports there are injuries and obstacles that the coaches and athletes have to work around.
"We've played a lot of division two teams when we are a division four team, it's been a losing record. It's our belief that if we play against that level, [it] will make us better, if we continue to play teams within our own division it's not going to push us at a level to accelerate our growth," said Coach Randy. 
The team's win on Oct. 11, 2023 against Cabrillo put Millikan in third place for the Moore League Championship. They finished with an overall record of 10-17 and a League Record of 3-2. This win automatically qualified them for the California Interscholastic Federation Championship (CIF). As the team has played higher divisions this season they did not build a record in Division 4, therefore they don't appear on the top ten list in their division for CIF.
"Anybody who comes to the games will see such an improvement from last year's team. These guys have been putting in hard work and they are developing. I definitely encourage everyone to come out and support the Rams," said Coach Kyllen.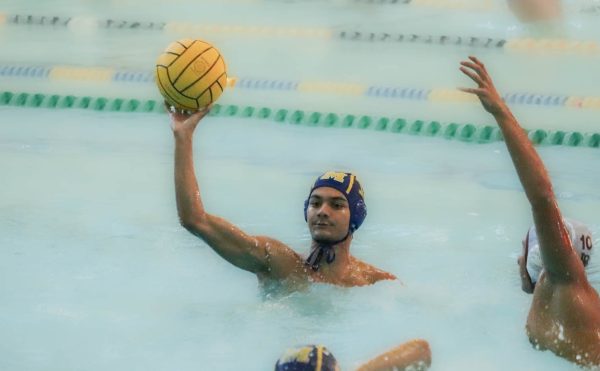 Coach Randy mentions a few players have been out of the water due to injuries and others have gotten sick throughout the course of the season. One of the most important factors that the athletes have had to implement to overcome these challenges has been maturity and leadership. The program has a heavy presence of underclassmen, which has required them to step up, become responsible and committed student-athletes. 
"Our program is not just developing athletes, we are developing student-athletes who can both have fun and meet expectations in the water," says Coach Lange. "Finding the balance between being a student and athlete has been quite challenging for the incoming players as the transition can be tough."
 Providing players with a space where they can have fun, meet the expectations and manage the pressure is a fundamental part of the program's foundation.
"This season has been a roller coaster but we are definitely improving as we get closer to CIF. Millikan Water Polo is definitely not what it used to be, we are an improving program," said  varsity goalie and senior in QUEST, Evan Zes.
Overall the Rams Water Polo team has made amazing progress this season. The small changes they are making within the program have made a significant difference. Little by little the Rams will reach the top. Let's wish them luck for CIF and as they head into Swim season!