Grasping Graduation Awards
The end of the school year is approaching rapidly, which means for seniors, graduation is just around the corner. During graduation, seniors have the chance to receive awards and honors for their hard work, but not everyone is adequately informed about these awards.
Students should be given more information on these awards through notifications, such as the global announcements on Canvas, so that those who want to earn them get a fair chance at working towards them.
According to Dr. Danks, the MBA 10th-12th grade counselor, there are "quite a variety" of awards available at graduation. Students have a chance to earn awards that showcase achievements during their high school career.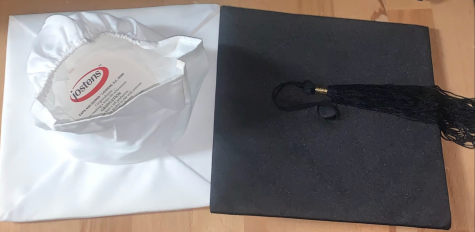 Honors that seniors can receive include the College and Career Readiness Medallion, Pathway Medallions, the CTE Award, the Service Learning Award, the Medal of Merit, AP Stole Awards, CSF Honors, NHS Honors, Seal of Biliteracy, GPA Honors, 4.0 Top Scholars Award, and Hall of Fame honors.
These awards can help students applying to colleges strengthen their applications and make them more competitive candidates for the college admissions.
"We let students know this kind of throughout their time at Millikan," Dr. Danks stated. "But, in their senior year, we have a formal presentation that shows, based on your GPA and your grades, the honors that you can earn."
Despite these reminders, people don't seem to remember what graduation awards there are. When talking to COMPASS junior Lauren Muir and SEGA junior Kevin Goodwin, both students could only remember pathway medallions and the diploma.
"My freshman year was online, so even if they did tell me, I probably forgot," Muir stated.
Millikan can help remind students by releasing information on these honors throughout their high school career and outside of the counselor visits. 
Reminding students about honors doesn't have to be a big deal since not every student is concerned about them.
"Personally, I'm just trying to graduate with decent grades," said Goodwin, "I'm not really worried about the awards."
By issuing global announcements on these awards and promoting messages from the counselors, Millikan can help students who are interested stay informed while sparing students who are not interested from bombardment.