Post Malone Breaks New RIAA Record
On Apr. 14, 2023, American rapper and singer Post Malone made his first 2023 appearance with the release of his new single "Chemical." Six days after Post Malone's release, the Recording Industry of America (RIAA) diamond certified three of Post Malone's hit singles: "Circles," "Better Now," and "I Fall Apart." This makes Post Malone the new RIAA record holder for most diamond certified singles from any music artist. Diego Ambriz, a sophomore in PEACE, said it came as "A huge surprise! I knew he was popular but not as much as Bruno Mars."
Diamond certification is the highest award an artist can receive by the RIAA. In order for a song to get diamond certified it must generate at least 10 million units. A unit is equal to one digital download or 150 on-demand audio or video streams. With three more singles added to his diamond collection, Post Malone has now accumulated a total of eight diamond certified singles, breaking the record previously held by American singer Bruno Mars who has six diamond certified singles. 
The RIAA is an organization that represents the music recording industry and serves the purpose to protect music creators' songs by making sure that their work is not damaged by online piracy and forgery. The RIAA also hands out awards to artists that have hit certain milestones in their career. 
As soon as the RIAA released the news, Post Malone released on his Spotify an album of all of his diamond certified songs as well as his new single "Chemical."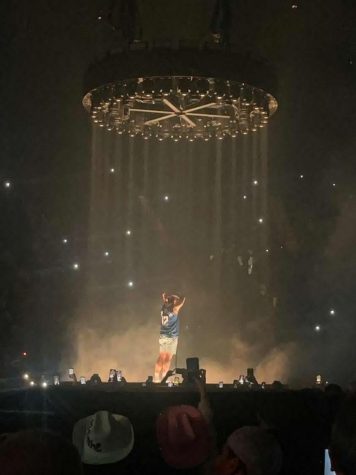 Post Malone's first debut studio album "Stoney" was released on Dec. 9th, 2016, which holds a series of rap songs containing a mixture of trap beats along with his hit single "White Iverson," the single that propelled his musical career. The album was a success for Post, helping him gain widespread recognition as a music creator. 
In 2018, Post Malone dropped another album that contained similar genres of music; however, with the help of the rap community Post used his recognition to drift to newer styles of music later throughout his career. In Post Malone's most recent songs like "Chemical," Post would create songs that mix together multiple genres, ultimately attracting different audiences.
 In an interview with Millikan Jazz Band's senior and COMPASS guitarist Mason Calimquim—who has also created an album of his own—he describes the impacts that experimenting with different styles of music can have on an artist. 
"I don't think that it helps an artist gain recognition but I do think experimenting with other genres and extending their musical talent does kind of solidify and extend their legacy because they are known for so much more with what they started out with." 
Thanks to the help of the rap community and his creation of songs from a melting pot of different genres, Post Malone has achieved great success in his musical career. There is no news of Post Malone's musical intentions for 2023, and though it is a mystery of when his next move will be, it is even more of a mystery of the style of music he will use.