Teacher Features: Mr. Hayes and Ms. Meagan
Welcome back to another round of teacher features, where we introduce the marvelous new staff that Millikan has to offer. This month we have the wonderful Ms. Meagan and Mr. Hayes.
To start off, Ms. Meagan is our special education U.S. History and Modern World History teacher along with special education Computer Applications in PEACE. 
Meagan's favorite parts about Millikan are the staff, students, support, and even the buildings.
"I have not found one thing I disliked so far!" she said.
Meagan first started teaching in the Peace Corps on the Western Samoa island where she taught English to elementary school students. She moved back to Long Beach in 2018 and is more recently coming from a behavior school where she taught all subjects to 9th and 10th grade students.
In her free time she enjoys staying active.
"I love playing rugby for Belmont Shore Women's rugby football club and I love playing field hockey for Santa Monica," said Meagan. 
If you see her cruising around or happen to be by room 551, stop by and give her a warm welcome.
Mr Hayes is next on the list. He is one of our four assistant principals that mainly supervises the QUEST pathway. Hayes is extremely interactive with the students and is seen all around campus with a welcoming smile.
He has been through various changes in his career path. In college, Mr Hayes started with a degree in electronics, mainly in the teaching focus and had the opportunity to teach at a university. His professor, Dr. Smith persuaded him into pursuing a career in education.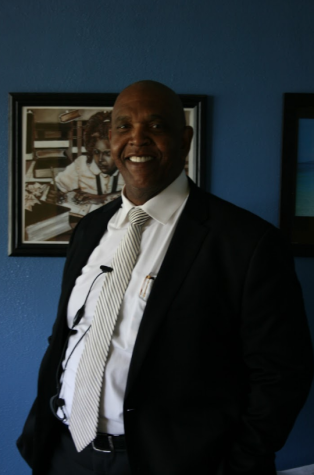 From there, Hayes decided to teach highschool football at Bellflower High and Pauli High in order to work his way up to one day coaching at college level. He himself played college football at Long Beach State after receiving a football scholarship. 
After an incident that occurred amongst his students, he felt motivated to move up to an administrator position in order to have a greater impact on his students' lives.
Mr. Hayes has done it all. In total he has credentials in Industrial Arts with a focus in Education, Vocational Therapist with Veterans Affairs, teaching credentials, and a masters in occupational studies. 
Hayes feels that his favorite part of Millikan so far are the students.
"I've always loved working with students, but I am finding that the students and the community here are a lot different than I had anticipated," said Hayes.
"I'm finding great people, and great instruction with a lot of rigor, relevance, and connection," he added. He even feels that Millikan has a similar feel to his highschool, San Diego High where everyone seems happy to be a part of the Ram family.
Hayes would like you to know that he is here to serve all of us Rams. 
"Use me as best you can because your success is ultimately my success and I will do everything I can to make sure you have a great year," says Hayes. 
We are very fortunate to have such fun staff with diverse backgrounds. We all have more commonalities than we may think. Stay tuned to learn about two more new teachers.