A Change in Ceremonies
Last school year, Millikan held the first Senior Pathway Awards Nights, marking a new push on maintaining equity in the pathways.
Senior Pathway Awards Nights are events where students and their families gather with teachers and staff to celebrate each pathway's graduating class. These awards nights used to be known as Senior Pathway Banquets, where attendees in some pathways would have to pay for tickets. Now, each pathway gets their own separate event on campus, with no cost to the students.
"There's equitable access for everyone, so that way no one is expected to pay any money for you to attend," stated Ms. Sanchez, Millikan Pathways Coordinator. "It's really about honoring students, so they're at the forefront of the awards nights."
"With senior activities it's all about being together before we go off," said COMPASS senior Molly Davis. "So I think that was a good switch."
When Pathway Banquets were held, pathways were able to host their events off campus, but the cost of renting a venue led to limited access.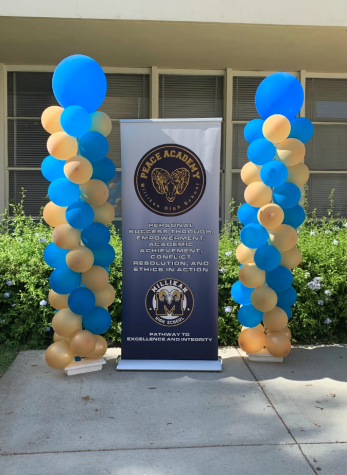 "One of my concerns with the banquet was that not all students would be able to go," said Mrs. Becker, the SEGA Pathway Teacher Lead. "So I really liked being able to have an event where a lot of students could be recognized and there wasn't that pressure to pay for the ticket."
"Cutting the cost of paying for a formal dinner and/or venue not only provided free admission for students to attend, but also encouraged their families and/or loved ones to also attend," stated Ms. Sanchez.
Mathew Jurado, an MBA senior felt that, "Everyone should feel included, not excluded. It doesn't matter how much you make to attend an event."
Another concern the Pathway Awards Nights try to address is inequity among the different celebrations. When Pathway Banquets required more fundraising, not every pathway held equal events.
"The banquets were nice, but we did see, especially with my pathway, that the timing of things and the cost of the renting space was not something that we could all do as pathways," stated Ms. Dixon, the MBA Pathway Teacher Lead.
"We should be celebrating the differences [of pathways], but then still have equal opportunities to do that," said Ms. Glenn, the PEACE Pathway Teacher Lead. "I don't think we've found it just yet, but we are working really hard towards that."
While every Awards Night will follow a similar outline, each pathway has wiggle room to make the celebration their own.
Ms. Dixon stated that having a structure where pathways can add their own touch was nice and "…created a uniform look, but also allows for the individuality of each pathway."
Mr. Mulvehill, the QUEST Pathway Teacher Lead, stated that QUEST teachers would continue to show appreciation for QUEST students while "…also living up to Long Beach Unified's stated goal of Equity and Excellence."
Now that the school has already made their first step for change, the Senior Pathway Awards Nights have an opportunity to grow in alignment with the goal of shared equity. MBA and PEACE Awards Nights will be held on May 31, COMPASS and SEGA Awards Nights will be on Jun. 1, and the QUEST Awards Night will be on May 30.