Small Business Make it Rain(bow)
During 2020, the world shut down. Most people took this time as an excuse to do nothing. Not Elisa Hodgson, a COMPASS junior. Instead, Hodgson combined her creative side with this sudden extra time off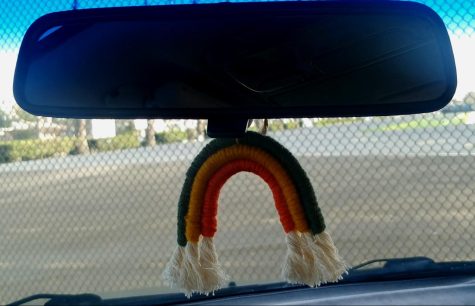 to create her small business, Rainbows by Eli with the motto; "Embrace what makes you happy." 
Rainbows by Eli sell macrame rainbow keychains, earrings, and car decor. The inspiration came from a shopping trip to Target, where she stumbled upon macrame rainbow hearts in the five-dollar section. After some research, she found that macrame was very popular at the time, especially in large rainbow room decor.
"I was like, I want something small," said Hodgson. "So I guess that's what inspired the keychains and earrings."
Starting her business required even more research and trials. Looking into different-sized macrame cords, whether she wanted to use embroidery thread or yarn, and whether to create an individual website or sell through a website, like Etsy. 
After a few trials, she landed on using Etsy since it would be the easiest for her as a teen, small business owner. 
"They help me with packaging labels, messaging customers, texts, fees, all on the same platform which is super convenient," says Hodgson.
After filling in information on Etsy, and waiting for her products to get approved, her Etsy shop was officially launched in Feb. of 2021.
Since its launch, Rainbows by Eli has had an exponential amount of growth. Some of her amazing achievements include international sales, partnering with non-profit organizations to raise money, and even getting her rainbows to be sold in the gift shop of the Long Beach Museum of Art. 
"It has definitely grown more than I ever thought it would," said Hodgson. 
"I don't know if I'll continue business after high school," says Hodgson. However, Hodgson would like to have her keychains in a local boutique that she could restock once a month.
No matter what Hodgson decides to do with her business after graduating, and even before, there is no denying how far the business has come.