D&D Casts Its Spell on Millikan
With AP German posters taped to the walls and chairs strewn about, Mr. Strout's bungalow 579 might not seem like the perfect spot for Dungeon & Dragons sessions at first glance, but every Monday, Wednesday, and Friday at lunch, it becomes the backdrop for some  students to run their D&D campaigns. 
"Everyone here found out that they all liked D&D or were at the least curious about it and wanted to try," says Strout.
Dungeons & Dragons, typically shortened to D&D, is a tabletop fantasy game with almost fifty years worth of history. From its rise in the 70s and 80s to its long legacy of pop culture imagery in series' like "Stranger Things" and "Community," it's proven time and time again that it has what it takes to remain relevant decades after its first publication in 1973.
So it's no surprise that it has a fanbase here at Millikan!
"It's a collaborative storytelling experience," says QUEST junior Nyeli Patilda. "I love how you get to tell a story together and everyone's got input; it's never gonna go the same way twice." 
Mr. Strout first opened his classroom up to his German students interested in playing D&D back in 2021. Since then, they've been spending their lunch periods playing together.
What makes playing special to these students is the creative nature of D&D. Players get to create their own original characters. Instead of following a strict rulebook like most tabletop games, their campaigns are organized and written by a Dungeon Master. This allows students to express their creativity and let their imaginations run wild.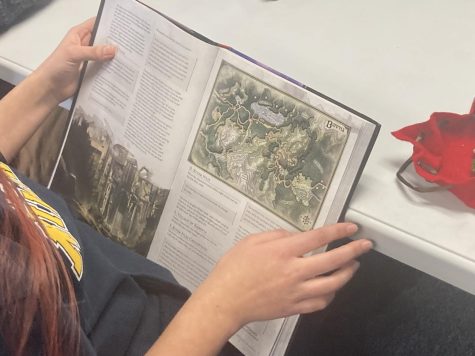 "It feels like I'm a part of a movie," says SEGA junior Elijah Fullbright. "It's great because there's an almost infinite amount of combinations of what you can have and everything you can do."
This group has been playing together for over a year. While some are relatively new to the hobby, others, like their Dungeon Master QUEST junior Dahlia Hardy, have grown up playing D&D.
"My uncle has been playing since he was a kid and he got me started," says Hardy. "He sent me the starter kit and now I've been playing at least once a week for years."
Everyone in the group has a unique history with the tabletop series, but were all brought together by their shared creativity and artistry. It's a passion that they're happy to share with others who are interested in trying out D&D.
"The best advice I could give? Just jump in! You don't have to worry about the rules," says Hardy. "It's all about having fun!"
Anyone curious in playing should come to bungalow 579 during lunch on Mondays, Wednesdays, and Fridays.