'Is There Someone Else' That Can Stop The Weeknd?
Abel Tesfaye, better known around the world by his stage name, The Weeknd, has taken the music industry by storm. As of Feb. 2023, he now holds the Spotify record for most monthly listeners in history with 98.5 million listeners, overtaking the previous holder, Ed Sheeran, by over ten million listeners.
The Weeknd has become a prominent R&B artist and is helping the genre overtake Spotify which usually has mostly pop singers dominating the charts. In the top five chart for most listened Spotify artists, it was dominated by four pop artists, Ed Sheeran, Taylor Swift, Miley Cyrus, and Shakira. 
The Weeknd stands alone as the only non-pop artist in the top five list, and is also at the top of it. "The Weeknd is one of my favorite artists and has started the uprising of R&B artists," says MBA freshman Kobe Magdael.
 One main contributing factor that helped him reach this record is his world renowned song, "Blinding Lights," which has broken multiple records independently since its release such as spending the most weeks on the Billboard Hot 100 chart with 88 weeks. It is currently the most streamed song in Spotify history with over three billion streams.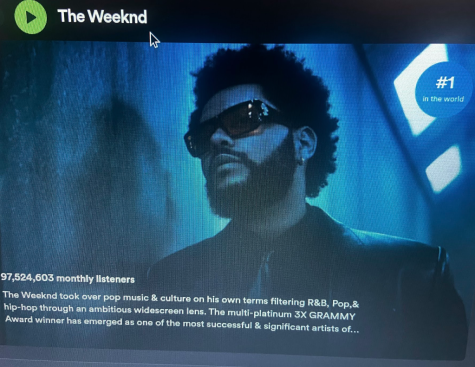 "The Weeknd is my favorite singer because he has very soothing vocals," says another MBA freshman Adrian Rios. "He is one of the best artists of this decade."
    This hasn't been the only major feat that Tesfaye has achieved during his impressive career. He has won a total of four Grammys and six American Music Awards. He currently holds multiple world records, one for his studio album "Beauty Behind the Madness," and another for being on the top ten in the Billboard Hot 100 by a solo artist. 
With all of these achievements under his belt, it doesn't look like The Weeknd is slowing down anytime soon. His feature with Metro Boomin and 21 Savage on the newly released track "Creepin," debuted at top five on the Billboard Hot 100 and is still there. 
Love him or hate him, The Weeknd has made his mark on the music world as a legendary artist.