Behind Backstage Bistro
As the lights dimmed low in the Millikan auditorium, I eagerly sat mere feet outside of the spotlight that beamed down on the performers. A black curtain, spotted with lights shining like stars, enveloped us. I looked down at my feet which were planted on the stage, then up towards a classy sign with the words "Backstage Bistro" surrounded by dazzling light bulbs.
Millikan's vocal music program just hosted their annual two-night performance called Backstage Bistro this past Feb. 1 and 2. For five dollars, fellow students and families could sit on the Millikan stage in the auditorium with our amazing student choir performers while they sang on a smaller stage in front of the audience.
"It's so fun and exhilarating to get to perform in front of the people I love," said QUEST senior and performer Emma Morgan, "It's such a cool thing to see voices shine."
To have performed in the show, a student must either be a part of one of Millikan's choirs, or be recruited to sing with them by a member. Then, they had to audition in front of Mr. York, the teacher of all vocal music at Millikan. 
These students could sing any song they want for the show "as long as it's moderately appropriate," said York, "The only thing I say no to is video game music because… it will be impossible to read the music."
Once performers got their song approved, it was completely up to them to rehearse it, meaning they received little to no guidance from anyone.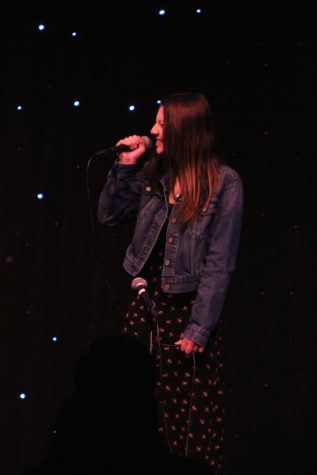 Each show had two different sets of around twenty five performers and lasted two hours each. Two different student-led bands; Cornerstore and Policy of Truth, closed each night, respectively. There was a wide variety of songs such as "Valerie," "Before He Cheats," and "Tiny Dancer."
Cole Ritter, COMPASS sophomore and performer enjoyed Backstage Bistro because of "the creativity in each song. Each number is different from the last."
All in all, this was a wonderful opportunity for students to show off their hard work and for the audience to experience a show more intimate and immersive than ever before.