Hi Rams! Welcome back to Behind the Music! This time we will be talking about four iconic bands that have announced their retirement in the last year. 
Aerosmith, an iconic American rock band formed in 1970, announced their farewell tour on May 1, 2023. According to Billboard, "In a career that dates back to 1970, the Bad Boys from Boston have placed 28 songs on the Billboard Hot 100, sold more than 150 million records, and earned a spot in the Rock and Roll Hall of Fame." 
Lauren Moran, a COMPASS junior said, " [Aerosmith] have amazing music and their farewell tour is going to be great. I am going to miss them because I have known them for a long time." 
Aerosmith,  best known for their songs "Walk this Way" and "Dream on", started their "Peace Out" tour on Sep. 2 and will eventually touch down in Los Angeles at the Kia Forum; despite the tour's indefinite postponement announced on Friday, Sep. 29, due to the unfortunate circumstances following Stephen Tyler's injured vocal cords and fractured larynx. Although this is not the first time Aerosmith has broken up, the band's old age can lead fans to speculate that this will be Aerosmith's final farewell. "It's not a goodbye it's a PEACE OUT! Get ready to walk this way, you're going to get the best show of our lives," the band stated on their Instagram post announcing the tour on May 1st, 2023. 
NOFX, a famous punk band founded by frontman Fat Mike, is reaching the end of their final tour on  Jan. 27, 2024. The band was founded in Los Angeles in 1983 and to my knowledge still has all of its founding members to this day. 
"It sucks to see [NOFX] go since they've been around for a while now. I used to listen to them with my dad a lot, so I grew up with them in a way," said Jensen Calderon, a QUEST junior. "I am not 100% sure why they are disbanding, but I feel like they've made their mark," he added. 
This year is the band's 40th anniversary. "40 years is a long time to be in a band", Fat Mike said, "I just don't enjoy it like I used to."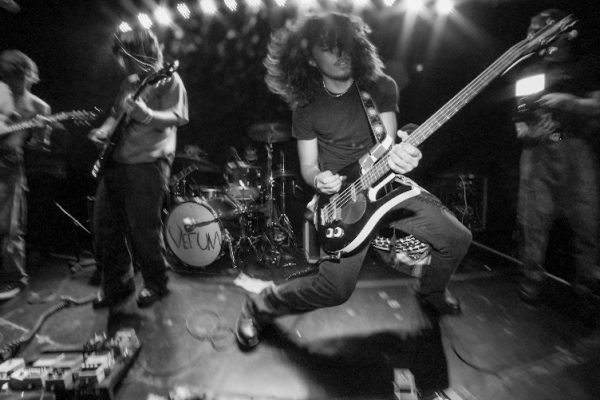 Another influential punk band announced that they are disbanding. Sum 41 was founded in 1996 by Deryck Whibley, who was only 16 years old at the time. This band is responsible for radio hits such as "In Too Deep" and "Fat Lip." On May 8, in the middle of their tour with The Offspring and Simple Plan, they announced that they were calling it quits after 27 years. However, they will not be leaving us without a final farewell. 
In their farewell statement on Instagram, the band announced that they will be releasing a final album titled "Heaven and Hell" which will be accompanied by a farewell tour when it is released. On Sept. 27 they released their new song Landmines as a single to promote their soon-to-be-released final album. 
Deryck Whibley, the band's singer was admitted to the hospital on Sep. 14 and released on Sep. 15 with a severe case of pneumonia which put him at risk for heart failure. Despite this, he remains optimistic that the band will play at their scheduled concerts. 
"I'm still bedridden, having a hard time breathing, tight chest pains, and some pretty wild fever dreams, that I guess are keeping this whole thing somewhat entertaining," said Whibley on an Instagram update Sep. 19, "I plan on being my absolute best for When We Were Young next month. That's my goal," he added. 
Continuing with the theme, Panic! at the Disco's frontman, and only founding member, Brendon Urie announced the end of an era with the end of his band. Highly influential to the
scene in the early 2000s, Panic! at the Disco produced hits such as "House of Memories," "I Write Sins not Tragedies," "High Hopes," and "Viva Los Vengeance." Urie announced that the band would no longer tour because he wanted to focus more on being a father. 
Although bands break up for a variety of reasons, they leave their fans heartbroken in the process. The bands noted in this article just scratch the surface of all the bands that have ended their careers in recent years. Their ends can be chalked up to artistic differences, old age, and even the pandemic; but one thing is certain, music connects us, making bands an important part of history. 
Be sure to tune into the next issue of Behind the Music, and remember to listen to what makes you happy.