"We haven't had the practice we usually do. We haven't had the summer tournaments we've had in the past and we will have to really work on our cohesive playing again as a team," said QUEST Senior and varsity swimmer and water polo player, Devon Fletcher.
The lead-up to the Rams girls' Swim and water polo seasons this year was not ideal, mostly due to the absence of a coach over the summer.
According to Fletcher, the team has just recently acquired two new aquatics coaches who will be leading the girls in their season.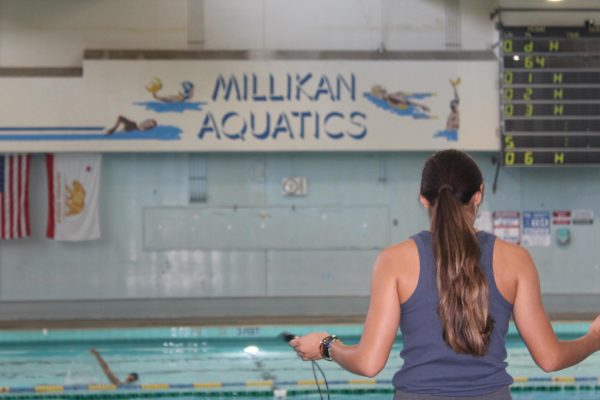 "The new head coach's name is Mike Carillo. He is loved by many members of the team for his mindset and style of coaching. He has coached some athletes through the LBCC Vikings Aquatics club team, so it should be a smooth transition as people already know him with a coach-athlete relationship," said Fletcher.
 The previous coach of the Rams Aquatics quit after the completion of last season, leaving Millikan in a hole. 
"He was trying to get his assistant to take over which is kinda what we wanted, but it never went through," said Millikan's Women's Athletics Director, Lorene Morgan. 
This absence of practices and competitions could cause the team to be a bit out of shape come their first meet. Extra work will have to be put in by the aquatics teams to ensure a successful season. 
Despite all of this, the aquatics teams are going to be competing in the tournaments and swim meets they normally would participate in for the rest of the regular season.
¨We are so excited to start competing again and seeing what we can do," added Fletcher.
Carillo has quite the job ahead of him, mostly because of his late entrance to the Millikan aquatics team. With the help of an extremely resilient girls' aquatics program, he should be able to coach these girls into a successful season.