Update Oct. 23, 2023: The Millikan counselors availability have been updated according to Ms. Mashburn's email to Millikan families on the times counselors are able to meet with students, which reads:
Millikan Families,
We hope this message finds you well. We wanted to take a moment to let you know about the availability of our school counselors. Our hours have changed. Counselor hours are from 8:00 am – 4:30 pm. Counselors will be available to students for drop-in services on the following days during nutrition and lunch:
Monday- Dr. Danks (MBA 10-12th Grade) and Mr. Temple (COMPASS 10-12th Grade)
Tuesday – Mrs. De la Paz (PEACE 10-12th Grade) and Mrs. Santana (COMPASS and PEACE 9th Grade)
Wednesday – Mrs. Mashburn (Head Counselor)
Thursday – Mrs. Barragan (QUEST 10-12th Grade) and Ms. Hamlet (MBA, QUEST and SEGA 9th Grade)
Friday – Mr. Booth (SEGA 10-12th Grade)
The beginning of the school year can be hectic, and Millikan counselors felt it in full force.
 According to Ms. Mashburn, the head counselor at Millikan, "The American School Counseling Association recommends 250 students per counselor. Here at Millikan, we have 500 per counselor." With this counselor-to-student ratio, counselors are being overworked and students are frustrated. The student body needs to keep its patience. 
Many students have tried to meet with counselors but have had no luck.
"I've tried going to Mr. Booth because I have classes I don't want, but he was too busy," stated Tyler Reading, SEGA senior. Reading tried to meet with his counselor at the office, but "it was really busy. There were a bunch of kids, younger kids, in line."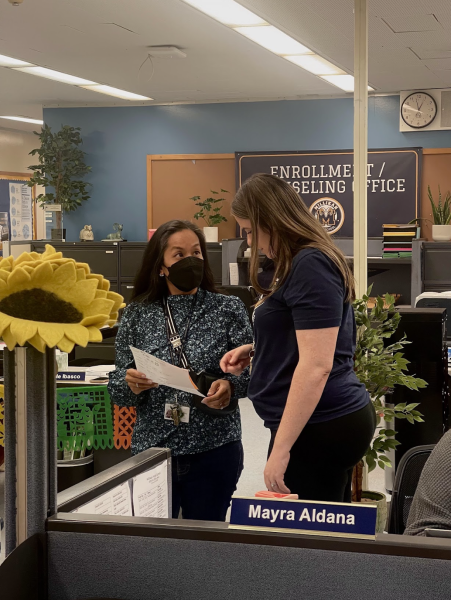 It can be frustrating to wait, but getting upset with the counselors won't make things run any faster. Students need to remember that counselors have more than student meetings to deal with.
"What a school counselor's job entails is three things that encompass everything," stated Ms. Barragan, the QUEST 10th-12th grade counselor. "We do academic counseling, we do social and emotional counseling, and we do college and career, or postsecondary, counseling."
These "big three" fields that counselors work with are very broad and add a lot of work to the counselors' plate. Since so many people need to meet with the very understaffed counselors, Millikan's counseling staff should ideally be doubled in order to match the American School Counseling Association's standards.
This would give Millikan a better student-to-counselor ratio and allow the counseling staff to give more attention to all their tasks without worrying about overflowing student requests. For now, however, students who do need to meet with their counselors just have to keep trying to contact them.
"I am open to students meeting with me in a variety of ways," stated Dr. Danks, the MBA 10th-12th grade counselor. Dr. Danks has office hours before and after school, during nutrition and lunch, and is also available for after-school appointments.
Mrs. Santana, the PEACE and COMPASS 9th grade counselor, shared, "I don't deal a lot with appointments, I just ask my kids to come see me. I just specify what a good time is." 
Ms. Barragan similarly said, "I'm perfectly fine with people just popping in."
Students who are unable to pop in can always email their counselors in order to confirm a good meeting time or even just to ask questions. The counselors are here to help students, just remember to be a little patient. 
Some inquiries can also be answered without seeing a counselor, so students can look through the Millikan and LBUSD websites to see if their problem can be addressed before meeting with them. This Rams Resources Flyer also has many useful links to both academic and personal resources.