Millikan Volleyball Serving Wins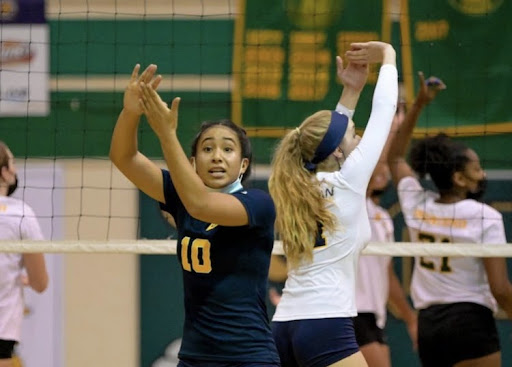 By Liana Ngauv
Co-Editor-in-Chief
As the Fall sports season comes to an end, Millikan girl's volleyball team finished their season with school spirit.
"Because of quarantine, we couldn't greet the other players like how we used to but other than that, the season was fun, eventful," COMPASS Junior, Jackie Frost states.
Olivia Martinez, QUEST Junior says, "We were very supportive of people and the team no matter the outcome. It was fun to go against people on the other teams you were friends with. We all grew a lot."
The Junior Varsity volleyball team finished their season with a win on October 14, in their last game against Wilson. The Junior Varsity team finished the season with a score of 8-3.
On October 12, Varsity won against Jordan. The Varisty in league games went 5-5. Our girl's volleyball team won their first CIF round and though our Varsity lost their second CIF round against Orange Lutheran, they finished their season with positive results overall.
Peyton Kirk, COMPASS Junior on the Varsity team, says, "Collectively as a group, we improved since the beginning of the season. At the beginning, we were a whole new team and trying to get into the rhythm of things. As the season went on and we started to play more games, it was a really big shift for us because we gained so much confidence from that."
Congratulations to our girl's volleyball team in finishing their season and praise them for doing their best! For more information regarding the girl's volleyball team, check out their Instagram page.