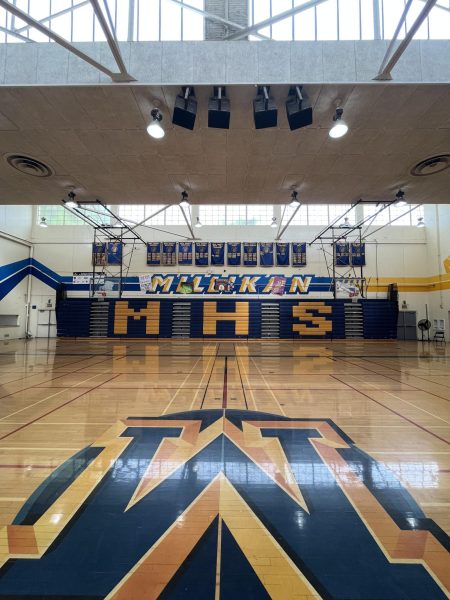 Millikan's Boys basketball starts in December and we can't wait to cheer them on! Coach Curtis Boyer has big hopes for this team and it shows.  
Boyer has been the Millikan boys' basketball coach since the '20-'21 school year. He joined the Millikan coaching staff during COVID and had a few things to say about his first season coaching during a global pandemic.
 "It was a very wild year due to COVID and having a Moore League season that began in March. We only practiced for six days in the gym before our first game." 
Tryouts for the varsity team were on Sep. 2 and this is what Boyer said about them: "First and foremost, [we look for] ability. Then, we look at their effort levels, communication style, if they are coachable, and how they would fit in with our program and other players." 
Kode Welch, a 10th-grade SEGA athlete on the varsity squad, said, "I feel that our upcoming season is going to go well. We are a work in progress but we still get the job done when we need to. One word I would use to describe my coach is goal-oriented because he has goals to get the whole team better and help everyone in their basketball careers."
Welch also touched on the new freshman joining the team. He said "Our team is going to improve our game by keeping each other motivated to work hard and believe in each other. Also, we're going to make sure everyone puts the work in and doesn't slack on anything, like work in and out of school."
Boyer feels "this year will be a very even year across the board in the Moore League, several teams lost many starters, including us, but we have many returners and have some very promising younger players."
"It's anyone's chance to win League this season," said Boyer. 
The first home game will be on Dec. 13th. Tickets will be $5 for students, $10 for adults, and $3 presale for students at the banker. We hope to see you all there and we wish the boys luck!