Sweaty hallways, stuffy classrooms, and very hot lunch breaks highlight the average day at Millikan during the first few weeks of school. Whether you are a student or a staff member, there are a few ways to escape the heat. Luckily, next school year, renovations are set to add more AC to Millikan's classes.
Currently, many classrooms at Millikan don't have air conditioning (AC), and this creates uncomfortable environments for people inside.
"It's hot in classrooms for sure. Too hot," MBA junior Devin Wilson states. Wilson doesn't have any classrooms with AC this school year.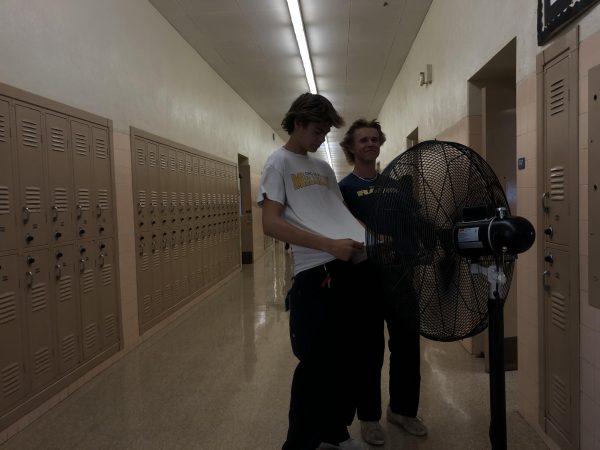 COMPASS senior Georgia Everman said, "I had to go home last week because it was too hot."
"A lot of [classrooms] don't have A.C. and the fans don't really work," states Everman. "There's no air actually coming in. I have to sit for an hour and a half just to cool down." 
Students aren't the only ones who have to survive the weather conditions; teachers feel it too.
"When you pack a whole bunch of kids in the classroom… the warmth, the heat, gets worse than what the outside temperature is," states Ms. Sharp, a Millikan math teacher in the 300 building. "So typically my class can run five to ten degrees hotter than what is outside."
Ms. Sharp has ceiling fans and tinted windows in her classroom, but fans can only do so much. Even with opened windows and running fans, hot air does not get cycled out.
The 2024-2025 school year is when permanent solutions are set to begin. According to the LBUSD website, a campus-wide renovation will include the addition of "a new heating, ventilation, and air conditioning system and select priority projects from the LBUSD's 2022 Facility Master Plan." This is projected to be completed by the 2025-2026 school year.
Current Millikan freshmen, sophomores, and staff members have more air-conditioned buildings to look forward to, but for now, everyone in Millikan has to endure the heat.