Bella's Book Recs!
I've always been someone who loves to read. However, as I grew older, I became less interested in this hobby. One of the good things to come out of the pandemic was my love of reading returning. I've regained my obsession with books, especially the ones that capture my entire interest. Many others like me have gained or regained the same passion and love for reading that I recently rediscovered. 
Luc Minkoff, a QUEST senior who is also a dedicated reader and member of Millikan's Literature Club, says, "The cool thing about books is that you can learn about everything." 
Here, I would like to recommend some of my favorite books that have helped ignite and continue my love of reading.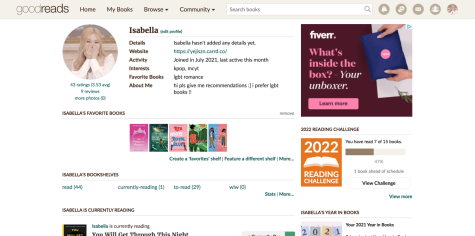 Aristotle and Dante Discover the Secrets of the Universe by Benjamin Alire Sáenz – I first read this book due to a recommendation by a friend. It's written in a way that's different from your favorite YA  (young adult) fiction book. The chapters are short, each written with deeper meaning it would be a good book to start off with if you're trying to get back into reading. The quotes from this story linger with you, and have you think back to the story and the characters long after you finish reading it. It's a story that makes you feel a range of emotions- quite possibly every emotion– and captures your attention. The main premise is about Ari and Dante- two boys in the 80's who become friends, and their experiences together. The Corydon was able to get an interview with author Benjamin Saenz. "I wanted to write a story about two boys in love." Overall it's a story of love, but also, friendship, Saenz says, "You fall in love with your friends. It's not sexual, but it's still love." He adds on, "We need them. They're family and as important as blood family."
I recommend this book to everyone I know. If that wasn't enough, there's a sequel to this amazing book! And even if you aren't a reader, it is being adapted into a movie that I, personally, cannot wait to see. Go read this!
Hani And Ishu's Guide To Fake Dating by Adiba Jaigirdar – I am a sucker for cheesy romances, and if you are too, this is the story for you. Hani and Ishu (the main characters of this novel) start out as acquaintances, but decide to fake a relationship to reach a goal they each set for themselves. Eventually, it starts to turn into something more. This book is cheesy and cringe worthy, but in the best way possible. For any hopeless romantics, or fans of the fake dating trope, I would strongly recommend this book.
 American Royals by Katherine McGee – American Royals asks the question, "What if George Washington had become king of the USA?" This tells the story of the Washington family, many years later, balancing royal life, romance, and friendships. With moments where you'll fall in love with characters, and other times be so frustrated with them, this book is one that's really entertaining. And, if you really enjoy it, there's a sequel and a third book coming out May 31!
Heartstopper by Alice Oseman – Maybe you're into graphic novels! Heartstopper is a quick read that you can find for free! I recommend this to everybody I know. Full of loveable characters and a story that brings important topics to life, it's hard not to fall in love with this series. It's been recently adapted into a Netflix original, and you can find the Corydon's review here. 
The Downstairs Girl by Stacey Lee – The downstairs girl is a historical fiction about an Asian American girl living in 1890's Atlanta. She starts off as a maid for a bratty, wealthy girl in town, but starts a newspaper column where she isn't afraid to speak her truth. It is a historically accurate novel, with characters you enjoy. It's a quick, fun read that I would recommend and currently want to reread. 
There's always new books to read, and I hope you find one that suits you!