Moon Knight
 If you have a Disney+ subscription, then you might've heard about a new show called Moon Knight. Moon Knight is a six-episode psychological action adventure show that you can currently watch on Disney+. In the show you meet two people named Marc Spector, a mercenary, and Steven Grant, who works in a museum, that share the same body. 
When one was in control the other would be in a sleep type of state completely unaware of what the other has been doing or that the other even existed. One day, as Marc has control of the body, Steven wakes up and begins taking control again. Unlike the other times though Marc is able to speak to Steven due to the death of their recently passed mother. This is when Steven learns that Marc has been serving an Egyptian god named Konshu.
If you're a fan of action packed shows with tons of psychological elements then this show would definitely be for you.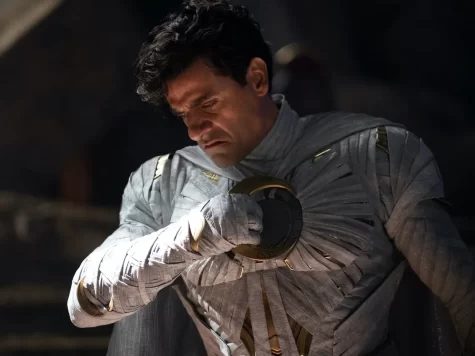 "Despite it being really confusing and hard to follow at times, I really liked it, and it was also different from other Marvel stuff I've seen," says QUEST junior Alexandra Talevera. "I [also] really liked Layla and the way she was represented in the show. It was refreshing to see such a different character being represented on screen, let alone an Egyptian woman," adds Talavera.
Even if you're not usually into psychological action shows I would still say watch at least the first episode because it has tons of funny moments and while there isn't much action in the beginning episode you at least get to see the awesome suit pictured in the film. "I would really like to see what happens next!" finishes Talavera. I personally loved every part of the show and the storyline was amazing.