The Thrill Capital of the World
Six Flags Magic Mountain (SFMM) in Valencia, California has more roller coasters than any other amusement park in the world with 19 and counting. Now the park will be the world's first ever amusement park with 20 roller coasters! "I think it's really cool that the park will have 20 coasters because there will be more options," says PEACE sophomore Maya Medina. This new addition is a roller coaster called Wonder Woman Flight of Courage, coming this summer.
When the new ride opens, it's going to be the tallest and longest single rail coaster in the world, measuring up to 131 feet tall and 3,300 feet long, beating out Jersey Devil Coaster at Six Flags Great Adventure in Jackson, New Jersey.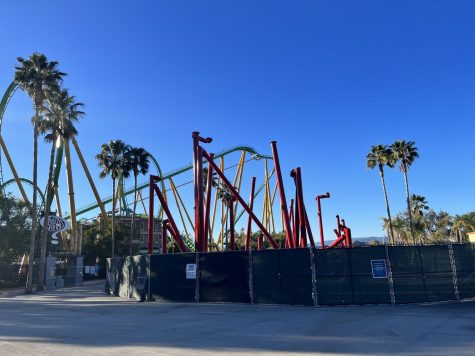 Wonder Woman Flight of Courage will be located in the DC Universe area of the park. It will replace the Green Lantern First Flight roller coaster and the Tidal Wave water ride. The coaster will go right next to Riddler's Revenge and Batman The Ride.
Wonder Woman Flight of Courage is going to be a single rail roller coaster manufactured by Rocky Mountain Construction (RMC). RMC is a roller coaster manufacturing company based in Hayden, Idaho and the company is known for building I-Box and Topper Track on wooden roller coasters as well as making old wooden coasters into newer hybrid coasters. Just a few years ago this company started building single rail roller coasters leading to the creation of the newest addition at SFMM, Wonder Woman Flight of Courage.  
This new coaster is creating a lot of excitement in the roller coaster community. "Having ridden Jersey Devil Coaster many times now, I think it's a great addition to Magic Mountain," says coaster enthusiast and photographer Robert Kilner @bkphotopage on Instagram.
Be sure to try and ride Wonder Woman Flight of Courage this summer. Get your tickets for $65 at sixflags.com/magicmountain.