WWI Museum
At the beginning of March, many classes visited the 400 building to have a special in-school field trip to Millikan's very own World War I museum. COMPASS students, with the help of the students in the Museum Studies class, put together a classroom covered in artifacts from the time period.
There was art, writing, clothing from the war, and historical artifacts, such as medallions, helmets, and a radio. There was also a section dedicated to 1920s women's fashion. 
The museum helps students see the physical history of the war without leaving the school. It came at the perfect time as many world history classes shifted into their World War I units.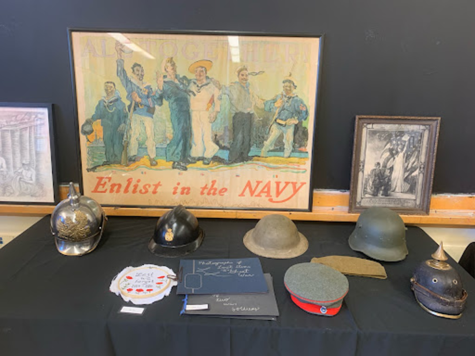 Mrs. Massich, a COMPASS 10th-grade
history teacher and her students have been setting up this museum for fifteen years. Three years ago, Mrs. Weinberg, a Millikan history teacher, joined in with Mrs. Massich and the Museum Studies class. They both feel a connection to war because both of their fathers have served the country. 
This year's museum was designed and organized by COMPASS 10th graders with help from the Museum Studies class. The key exhibit was on the Harlem Hellfighters. They were the most decorated African American regiment from New York that fought for the French army. 
"We felt troop 369 [the Harlem Hellfighters] needed to be profiled more since this troop didn't receive the recognition and respect they so deserved," says Mrs. Weinberg, "For example, Henry Johnson, the leader of this Black American troop died being homeless on the street in NY."
"For my 10th graders, I would want them to be proud of their hard work and to see what's possible when everyone does their best to create something special like the World War I museum," says Mrs. Massich.
The museum was a great educational experience for all students and especially for the COMPASS students who worked so hard to put it together.