A Paw-some Addition!
The Wellness Center is Millikan's latest addition to improve the school. It's a good idea and place to relax, however I feel as if there may be something that could make it better–therapy dogs! Therapy dogs have been proven to help people of all ages. According to therapydogs.com, therapy dogs can "...help a person control daily anxiety, regulate emotional arousals, and improve mood."
Around 20 students per day visit the Wellness Center, according to Ms. Ursetti, Millikan's social worker, who helps at the Wellness Center. She says stress for students comes from "overarching problems. Some of it's school, a bit of home, and a bit of social. Some of these are bigger for some students than others." 
Therapy dogs are trained to help people with stress or depression, amongst other mental illnesses. Medical News Today writes that therapy dogs help by "…calming a person down during an anxiety attack through distraction, such as licking their face or providing a paw…" and "providing deep pressure therapy to soothe their owner…" Dogs in general are known to bring good company to their owners by providing love and friendship. Sometimes, just a little love and comfort, like a dog, can help students throughout the school day.
Mr. Erik Shweninger, principal of Fairfax-San Anselmo Children's Center, which is an education center for kids, has worked with therapy dogs. Shweninger says that, "…dogs are the best therapist that nature can give us, because they have a real connection with us. A lot of the time, kids come into my office and they don't want to talk to a teacher, so the best solution is to let them spend time with the dogs." His center currently has two dogs, Sage and River, who are both labradors. He says when kids get upset, the most effective way for them to calm down is to let them interact with Sage and River.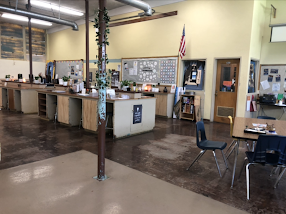 As far as bringing therapy dogs to the Wellness Center, Ms. Ursetti says, "I think it's a great idea." She adds, "I think they're helpful, when I was an undergrad they had them, and people loved them." However, there would be a process, since at the moment, non-service animals are not allowed on campus. Service dogs are currently allowed, but we should also allow therapy dogs, which can be a form of service. They would be working for the school, and the process would have to follow all rules, and maybe make some new ones, but it's possible. The outcome would overall help the school and its students. 
Until we (hopefully) get therapy dogs, here are some ways to cope with stress: Ms. Ursetti recommends taking breaks and self care. This could be yoga, meditation, coloring, sudoku or word searches. Whatever works for you! Talk to an adult you trust; this can be a teacher, parents or counselors. These coping methods can help with stress and depression. And, of course, you can always visit the Wellness Center. Ms. Ursetti is always there to help, and it's a good place to relax and destress.