Bring Back the Ducks!!!
El Dorado Park, off North Studebaker Rd. and East Willow St., has been under construction as of Sept. 2022, with contractors scheduled to work Mon-Fri from 7 a.m. to 4 p.m.
This is all part of the El Dorado Duck Pond Project, which is set in place to be finished by late 2023. The purpose of this project is to improve the water quality, enhance ecological function and pond's habitat by replacing the pond liner, filtering out invasive species, and enlarging the wetlands and forebay, a canal that functions as a buffer to avoid flooding, making visiting experiences more pleasant. 
Making improvements to the pond to make it eco-friendly has been a major priority. The park has partnered with the Long Beach Water Department to conserve as much water as possible. They developed a reclaimed water system in which they will be using treated pond water to irrigate the El Dorado Park Golf Course, which will create an immense impact on the community. It is important to know that the system will provide filtration and disinfection for the water going through the irrigation system.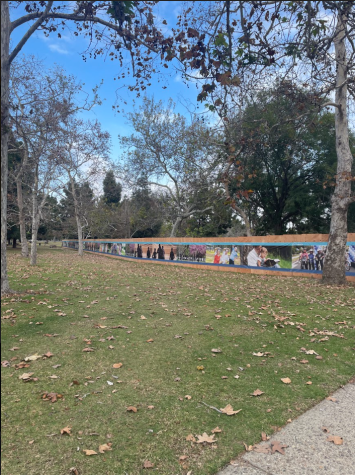 Mr. Cruz Cardenas, the AP Environmental Science teacher and girl's soccer coach here at Millikan, agrees that this project will benefit the community and the pond's surrounding environment. 
"It's encouraging for the public to see that the city is taking action to reduce one of the most wasteful activities, using fresh water for the golf course. Just that alone has a large impact on the city's water usage," says Cardenas. "Furthermore, it will allow for the natural filtration of toxins that are bad for the organisms that live around the pond."
Cardenas thinks that this project is important, but also he believes that other issues should be addressed quickly. "This project is a step in the right direction as we work to conserve more fresh water."
"There are other sectors of the city that need to be resolved concurrently. This, in my opinion, is simply a single solution for a single problem that doesn't take into account other issues related to our difficulty with waste management, carbon-neutral public transportation, water reclamation efforts in other sectors, flood control, rainwater reclamation, and public spaces sanitation among other environmental justice issue," Cardenas adds.
According to the provided timeline, the pond was drained as of Nov. 2022 allowing contractors to address and repair cracks, improve access, and make the pond a recycled water reservoir. For more information please visit the Long Beach Public Works website.