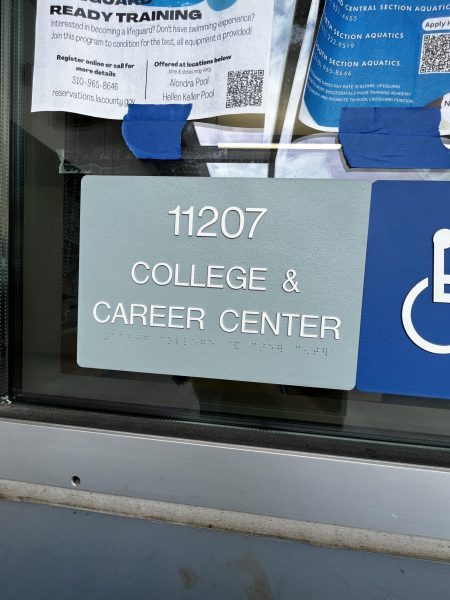 During the week of Oct. 16 – Oct. 20, Millikan hosted our annual College and Career Week. Like past years, this event consisted of a pull-up bar challenge from the Marines, professionals to talk to, and booths in the quad, but this year we also had the opportunity to go to the auditorium to hear from different professionals and their careers.  
Here's how the week looked. On Day One, the College and Career Center hosted a workshop on "How To Network" at lunch. This focused on how to professionally present yourself. 
Day Two featured Chapman University helping students with their college applications in the College and Career Center
Days Three and Four held panel discussions about career journeys.
The panel discussion in the auditorium hosted different women in the workforce, such as Laura Higgins, a psychotherapist, Andrea Garcia, a QUEST alumni of 2014, and a data analyst, and Heather Lee, part of the Long Beach utilities department. 
There were four sessions of panels. They were on Wednesday and Thursday during periods 2, 4, 1, and 3. One of the panels felt very lowkey and under the radar, like most students weren't aware of it. As it got closer to starting, more classes started to sit down and filled almost all of the middle section of the auditorium. Couches and chairs were on stage and a projector showed different college programs on the screen at the beginning of the discussion. 
The presenters shared the many struggles and obstacles they had to overcome with their career paths and even gave advice to the students on what to expect once they get their first job. Before closing the panel, the students had a chance to ask the presenters any questions. There were four sessions of panels. They were on Wednesday and Thursday during periods 2, 4, 1, and 3.
Also on Days 3 and 4 were the College and Career Fairs at lunch in the quad.
10th grade Modern World History teacher, Mrs. Alexander ran this event along with Ms. Sanchez, Millikan's Pathway Coordinator. Alexander said, "My goal was to get as many colleges and careers on campus so kids can get exposed and get as many teachers as I can to share their experiences. "I wanted students to learn what opportunities are out there and know there isn't the same path for everybody, you have to find what makes you happy," she finished.
There were several booths set up on the quad. One of the most popular booths was the Marines, tons of students participated, and many students were seen asking for information about their careers and colleges they wanted to go to. Other booths like the Long Beach Junior Lifeguards, Long Beach Utilities, and the Los Angeles County Office of Education. These booths had all kinds of different accessories given to students like sunglasses and string bags. 
On Day Five, there was college trivia held in the center at lunch.
Overall this was another successful event held by Millikan's College and Career Center!