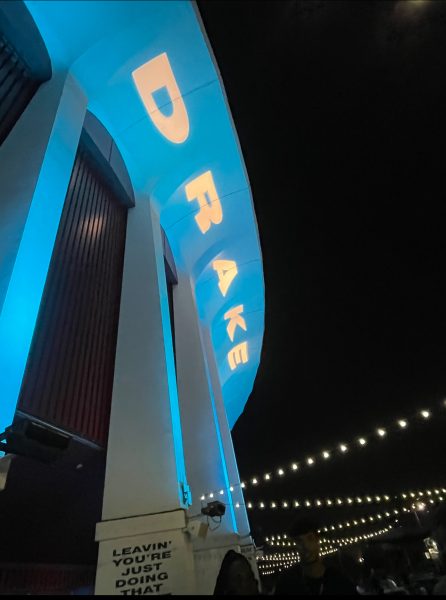 "Drizzy Drake", "The 6 God", and "Champagne Papi", are some of the various nicknames for the rapper Drake. The rapper dropped a new album "For All The Dogs," on Oct. 6, 2023. 
"For All The Dogs" is Drake's eighth studio album and features 23 songs making it an hour and 24 minutes long, a normal length for a Drake album. I personally liked it and was pleased with the outcome. 
The album was delayed multiple times and had an official release date of Sep. 22 but moved to Oct. 6 due to Drake continuing his "It's All A Blur" tour. 
On the day of the album's release, Drake shared on Instagram that the album was delayed once again until 6:00 a.m. with the caption "Sorry to all my streamers" relating to the live streamers on platforms such as Twitch and Kick who planned an album reaction that night. 
When the album finally dropped, the cover featured a dog drawn by Drake's son Adonis. There are many feature artists such as, "Teezo Touchdown", "21 Savage", "J Cole", "Lil Yachty" and "Chief Keef." The songs were a mix of the "old" Drake and new sounds that he's been experimenting with on his previous albums, a more upbeat type sound with a faster tempo and sounds nothing like Drake's R&B era which he is mainly known for.
I listened to the album the morning it dropped. I felt excited going into the album and was very curious about what Drake whipped up this time. When I finished it, it felt solid. I think it was worth the wait of 10 months. 
There were some songs where the question "What I was listening to?" popped into my head. An example of this is one of the two interludes "Screw The World". The song is slow and has almost a slow-motion video sound. The song is messy and I didn't understand it at first listen.
The album will definitely be on repeat these next few months. A nighttime drive would go along great with some songs. 
Whether you're looking for a hype song like "Daylight" or "FPS", or a more chill vibe like 'Virginia Beach' or "Slime You Out", "For All The Dogs" has everything!