"Israel intensifies Gaza bombing"… "Hostages taken by Hamas"… "Israel declares war on Hamas"… Have you been reading the news headlines? 
There are a lot of students who don't know too much about what's going on in the Middle East. "I do know Hamas attacked Israel, are killing… and holding hostages," says an MBA freshman. But there is definitely more to the story.
On Oct. 7, 2023, Hamas launched an attack on Israel, killing 1,400 people and injuring 5,400, according to the Washington Post. They have also taken hostages. Right after the attack, Israeli Prime Minister, Benjamin Netanyahu, declared war on Hamas.
What is Hamas? They are recognized as a terrorist organization by the U.S. and first took power in the Gaza Strip by winning elections in 2006 against "the main Palestinian party that still controls the Palestinian Authority," says the Washington Post. Hamas got rid of the Palestinian Authority and took control, eliminating future elections in 2007.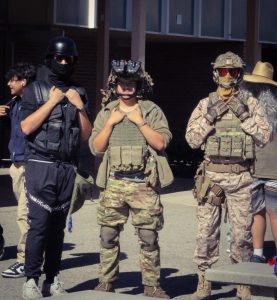 Hamas and Israel have had a history of violence, though such current violence hasn't been seen before. Their violence is due to the fact that Hamas wants to take over Israel and does not acknowledge the right of Israel to exist.
Israel has responded with violence in the past as well, but now its goal is to completely get rid of Hamas. It has responded to Hamas attacks by sending troops to Gaza.
"It also blocked supply lines of basic necessities to the Gaza population, including fuel and water," says CNN. People living in Gaza have been told to evacuate, but some have either refused, have no place to go, or just can't leave. While the Gazan borders have been shut, 4,385 people have died, according to CNN.
Israel has also taken an estimated 4,500 Palestinians from the West Bank and held them in prisons. This could be another reason for the Hamas attack, claims BBC.
"I feel sad for the Palestinian people, who don't have a choice in how things are being handled, but this is one of the worst things that we've seen happen in Israel in a long time," says Ms. Karni, the AP stats and F.S.T. teacher here at Millikan. She has family living in Israel, luckily she hasn't lost anyone, but her cousins have lost their loved ones.
While this war can be confusing, with different reasons and attacks, it is also very stressful and disheartening. All this violence can leave youths and adults everywhere feeling powerless or discouraged, but there are many ways to ease the ache in your heart.
You can visit the Millikan Wellness Center, talk to a trusted adult or friend, or take a break from watching the news.
It's important to know that not all Palestinians or those living in Gaza are a part of Hamas. There are a lot of innocent deaths on both sides of the border, deaths from Israel's bombs, and deaths from Hamas' rockets.
Biden has also visited Israel and tried to "get aid into Gaza as well as passage out for Americans wanting to leave," says NPR.
What's really important to realize is that there is violence coming from both sides and hurting innocent people in Israel and Gaza.