With the business of senior year, figuring out how to navigate applications and financial aid can be stressful for seniors who want to go to college. This is why Millikan's College and Career Center is hosting Swarm College Application Days.
These Swarm Days are happening Nov. 2 and 3, from 8:45 a.m. – 3:35 p.m., as well as Saturday, Nov. 4 from 9 a.m. – 12 p.m. in the College and Career Center.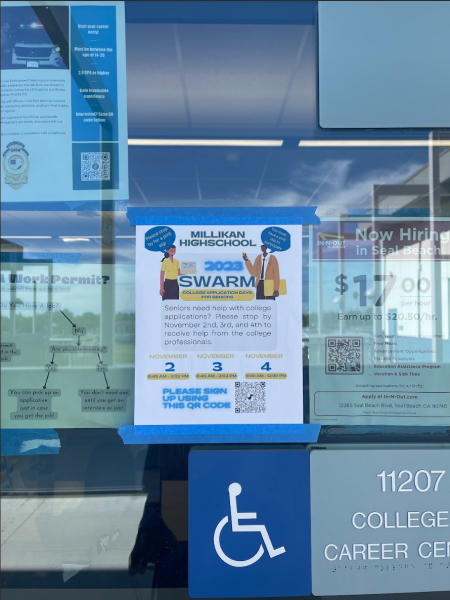 "[Swarm] is a day where seniors can come and get help on whatever college application they are working on," stated Mr. Yezzo, a College Advisor at Millikan.
On these days, multiple college advisors will "swarm" to a school, allowing more dedicated time to work with individual students. This benefits students who have complex questions or need more guidance on applications.
"Our goal is to finish as many applications as possible before Thanksgiving break because we want [students] to actually enjoy their break," said Mr. Yezzo. Early applications are normally due throughout the month of November and many seniors like to plan ahead for applications, so this goal benefits many students.
Two MBA seniors, Elliette Rebennack and Liv Swanuy, are already feeling anxiety over applications. 
"There's a sense that [the essays] have to be perfect and it has to be your best work, and it's overwhelming," says Rebennack. "I feel like there's a lot of pressure put on us and that's why there's a lot of stress."
Rebennack and Swanuy want to take gap years but are still applying to colleges.
Students who would like to attend the Swarm Days can pick up a pink slip from the College and Career Center which will allow them to step out of their classes for two periods and go to the College and Career Center for help.
For more information, students can email the different college advisors here at Millikan or stop by the College and Career Center.