There has been much effort to limit human impact on the environment, even students have done their part to support the Earth. They can join their school's environmental clubs or campaigns, or limit their own impact on the environment. Many organizations have also minimized their effects on the Earth.
Many people have been making such a huge effort because as we approach 2030, we reach a point where climate change can not be diverted from its course.
"There is still one last chance to shift course… it would require industrialized nations to join together immediately to slash greenhouse gasses roughly in half by 2030 and then stop adding carbon dioxide to the atmosphere altogether by the early 2050s," says the New York Times.
Also, not only has climate change increased, but so has pollution, ruining ocean and land habitats, and worsening human health.
Climate change also threatens to make Long Beach an underwater city. Global warming causes flooding by melting glaciers or ice, which adds more water to the ocean.
There have already been major efforts to stop the causes of climate change here in Long Beach, one of them being the Long Beach Green Schools Campaign. This organization has made an effort to limit the environmental impacts of the LBUSD by passing policy 3510.1, guiding the district to use 100% renewable energy.
Another organization in Long Beach that has been doing its part to limit its emissions is the Port of Long Beach.
The Port's Green Port Fair, which occurred on Oct.7th, celebrated its goal to become the first port with zero emissions. They have already started implementing company policies and guidelines to guide them to this goal.
"By 2035 all trucks in and out of port will create zero emissions, by 2030 all cargo handling equipment will create zero emissions, also the Port of Long Beach has many programs to clean up the atmosphere and improve the environment for wildlife and people," says Anthony Pelesasa, the communications specialist for the Port of Long Beach.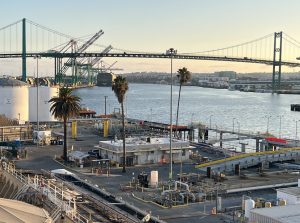 The Port of Long Beach also has a shore power program. "With our shore power programs, as ships are docked on ports for 3-5 days
and people live in them," and use electricity in them, "the ship turns off its engine and plugs into shoreside electricity. As it's plugged in, the port is able to control 100% emissions," says Pelesasa.
The port has many other policies to help the Earth's environment and is celebrating its cause at the Green Port Fair. There will be a lot of activities and information regarding their goal of zero emissions.
You can show your support by attending other environmental events you know about or joining the Millikan Environmental Club, or other organizations helping the environment. You can even just take small actions to help the Earth, like using less electricity or carpooling to your destination. Whatever you decide to do, we must take action together.