The girl's flag football team is a new team at Millikan this year. Currently leading the Moore League, they have already gotten off to a spectacular start!
Though the varsity girl's flag football team lost against Poly 13-28 on Tuesday, Sept. 26th, in earlier varsity games, Millikan won: 14-0 against Tustin, won against Wilson 14-12, and defeated Cabrillo 12-6.
Click here to view the progress of the varsity team.
While these are physical wins for the girls' flag football team, it is an even bigger win for Millikan girls overall.
Before this year, there was no girl's flag football team, but girls have been able to try out for boy's football. In fact, there was a girl kicker, Chloe Robinson, on the boy's varsity football team from 2017-2019. She was the first girl in Millikan's history to score a point for varsity football. Now, girls have been given another opportunity to show their skills on the football field.
"I'm super proud to be on the flag football team, it's really rewarding," said Hailey Suttle, a PEACE junior, and a center and quarterback on the varsity flag football team. She has a special bond with football and her dad and found this to be the perfect opportunity to do what she loves.
"Just to say that I'm a part of the first-ever Millikan flag football team, and doing something that no one has ever done here before makes me very proud," said Suttle.
The rules are very similar between men's and women's football, with a few small differences. The main difference comes from the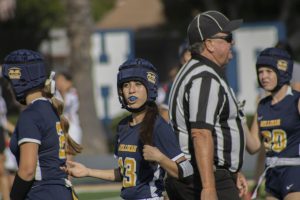 fact that, in LBUSD flag football, no physical contact is allowed, and there is no kicker position.
According to Coach Mendoza, the girls prepare for games similar to the boys. Coach Pellum is a coach for the girls' football team along with Kacey Mendoza, and since he's experienced as a boy's football coach, he leads the preparations for their flag football games.
For those who are interested in joining the new team, tryouts begin at the end of the year. There is also a wide range of skills that players can have.
"In new players, [skills] would be basic coordination skills, hand-eye coordination, and if you can catch," said Kacey Mendoza, the other coach for girls flag football and Millikan's Boys' Athletic Director. "We look for foot speed, the ability to be able to pull a flag when a person's running by you, and most of all just a positive attitude and people that are willing to learn the sport."
If anyone's interested, please contact Mendoza. Her email is [email protected], and her office is room 603 in the small gym. Also, make sure to show up for our girls at their next games, Oct. 17 (against Poly) and 24 (against Wilson).