Back To The Schoolyard With Precautions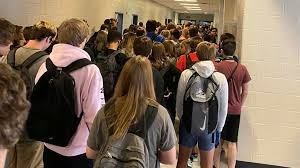 By Arriyon Byers and Jai'La Du Rousseau
Podcast Editors
The 2020-2021 school year has been nothing like Millikan students imagined their school year to be. No social events, difficulty seeing people outside of Zoom, postponement of several entertainment events, and arising mental health crises involving students.
Regardless of the unfortunate circumstances, some students, teachers, and staff have become accustomed to this new way of living, making going back to school an unfavorable decision. In March 2021, Millikan parents were sent an email via Parentvue asking whether their student(s) would attend school for the remainder of the year or remain in an online setting.
QUEST senior Ramon Rivera Astorga states, "I will continue online learning due to having to develop a new schedule. I found new ways to use up my free time and I've made commitments to certain things that I cannot give up on." Returning to school for many is not an option as during COVID many of us have picked up responsibilities such as: caring for siblings, part-time jobs, maintaining a consistent routine, etc.
The second issue is there is no certainty that students will be cautious and practice safety protocols, once students and staff are informed of the safety procedures. It's a strong misconception that when students are eligible to return to school grounds, things will return to normal, when in fact, students and other staff members must stress the importance of following these set health guidelines. MBA Senior, Daniela Duarte admitted, "I definitely am not going to be six feet away from my friends, we probably would not touch each other or items, but I know we would not social distance." Similarly, QUEST senior, Myles Ware states, "If I were at school I would try to hang out with my friends, and unless I were instructed not to do so, I would probably forget that I had to stay six feet away."
Data from hopkinsmedicine.org shows that individuals under the age of 18 are less likely to become infectiously ill from the COVID-19 virus. Although this may be true, students and staff can spread COVID amongst teachers, administration, and other personnel. Considering that the COVID-19 vaccine was not required for Millikan staff and the vaccine is not yet available to students, we cannot ensure that all staff will be safe.
Finite math teacher Andy Lewis states, "I feel safe. Or rather, I don't think COVID-19 poses a serious health threat to myself, to almost all of our students, and to most of the staff on campus. The evidence is pretty clear that the virus is a serious health risk to only segments of our population, the elderly, the overweight, those with pre-existing health conditions, those with compromised immune systems. My greatest fear is not to my own health, but that I might get the virus and spread it to someone more vulnerable."
© PHOTO COURTESY OF EDWEEK.ORG
Students practicing social distance protocols during in-person learning. Since school hasn't started in person yet here are images of what it looks like at other high schools around the country.
While some believe Covid is not a threat, there is another issue that arises. Specifically, the possibility of students and or staff presenting the COVID-19 virus to friends and or family once leaving school grounds. In most cases, the virus can be identifiable by many factors, but it can easily become difficult if that infected individual carries asymptomatic infection.
Considering that not every student can be on campus at the same time, there will be a rotation system in place to accommodate everyone, we're calling this, the 'Hybrid System'. Students will be split up and assigned certain days of the week to attend in-person school, while the other group learns via Zoom. This indicates that teachers will simultaneously be teaching a physical group of students in their classroom while teaching a group of students via Zoom. "I do have concerns about working with my online Zoom students and my in-person student leaders at the same time. It will be a challenge," stated Activities Director, Grant Robinson.
Taking everything into account, it can be easily inferred that in-person learning isn't the most sensible route for students and administration to pursue. We are still figuring out how to safely perform daily tasks without jeopardizing the safety of others, so naturally, it's more advantageous to prioritize our health and well-being, rather than leisure activities. Although it would be nice to return to the days prior to the global pandemic, it's simply unfeasible given our current situation.