Disney's Raya is Representation, Not a Replica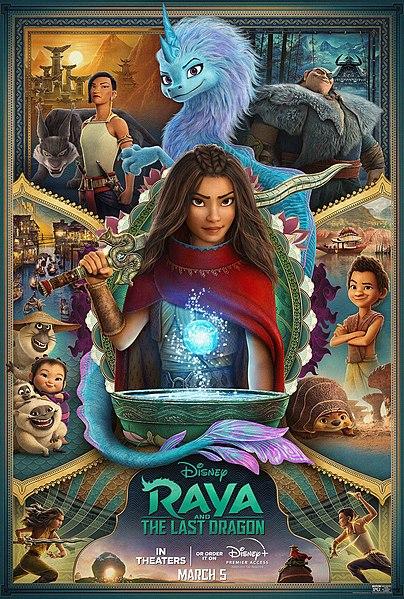 By Isabella Talavera
Copy Editor
For a long time, Disney princesses were almost always exclusively white, as were the rest of the characters in their movies, except for characters like Mulan, Jasmine, Pocahontas, Tiana, and Moana. Not every Disney movie is historically accurate, especially in the case of Westernizing Mulan and romanticizing the story of Pocahontas. Tiana, the first black Disney princess, was a frog for about 80% of The Princess and the Frog. However, despite these past shortcomings, the upcoming Raya and the Last Dragon movie doesn't seem to be subject to these faults.
Raya and the Last Dragon is set in the fantasy realm of Kumandra, a land based off of the different cultures of Southeast Asia. It features a warrior named Raya on a mission to find the last dragon in order to bring hope to her land, and though the entire movie and story isn't out yet, it's been established that Raya is Disney's very first Southeast Asian princess. For once, S.E. Asian girls, whether children, teenagers like myself, or adults, have a major film character who looks like them. Even the writing team is Southeast Asian, featuring Malaysian screenwriter Adele Lim (who co-wrote the screenplay for Crazy Rich Asians) and Vietnamese playwright Qui Nguyen (who wrote Vietgone). The development team has been sent to countries like Cambodia, Laos, Thailand, Vietnam, Singapore, Indonesia, and the Philippines for research. As someone of Filipino descent, I love seeing this blending of cultures. Never once have I thought that Raya was stealing from any other media; why would it when the creators have all the plentiful cultures of S.E. Asia to pull inspiration from?
Despite the beautiful character designs, cultural blending, and general S.E. Asian representation, people on social media have been complaining that Raya is copying other Asian-based media, more specifically Avatar: The Last Airbender (ATLA), and its sequel series, The Legend of Korra (TLOK). Ever since the first time Disney posted about Raya, people have been commenting that Raya herself looks like a mix of Mulan and Moana or a copy of Korra from TLOK due to Raya's younger design. They also note that Raya's red cape and hat are reminiscent of a disguise called the Painted Lady worn by ATLA's Katara, and that a mysterious masked man in the trailers is similar to ATLA's Blue Spirit, a stealth disguise worn by Prince Zuko. It's similar to how people shot down Disney for copying 20th Century Fox's film The Book of Life for its own Dia de Los Muertos movie, Coco. The aforementioned cases of comparison demonstrate a lack of awareness in the fact that those products are merely based on the same cultures and are not explicit plagiarism.
PHOTO COURTESY OF DISNEY
Disney's upcoming "Raya and the Last Dragon" comes out on Disney+ March 5, starring Kelly Marie Tran as Raya and Awkwafina as Sisu, the last dragon.
With the comparisons of ATLA versus Raya, society really goes to show how little Asian representation there is in mainstream media. Fans who compare ATLA and Raya seem to believe that ATLA practically created Asian representation and a variety of cultures based on it. ATLA wasn't the first concept to use a brown girl with dark hair and blue clothes for a main character.
"I feel that the lack of Asian representation in the media decreases the chances for Asians or Asian-Americans to break barriers and stereotypes. There are so many Asians/Asian-Americans that the typical stereotypes (smart, good at math and science, will become a doctor, etc) do not apply to, and it is hard to avoid or destroy this common view of Asians/Asian-Americans as a whole," says QUEST sophomore Emma Hunyh. "The lack of representation leaves a lot of room for people to make their own assumptions or conclusions about Asian cultures without really understanding the differences between them or the significance of certain events."
Asians are not monolithic. There is no one kind of Asian representation, nor is there only one culture. Just because one piece of media is based on some cultures doesn't mean other studios and productions aren't allowed to do the same. In fact, it's important that there be multiple productions with different stories so our predominantly white and Eurocentric world of media gets used to seeing multiple works and so children of different cultures and ethnicities can see their worlds on the big screen.
We shouldn't accuse one project of stealing or plagiarizing from another when all they do is share inspiration from folktales and cultures. Stories have been retold many times and the same sources of inspiration can be used, but the different worlds and characters are always different and that's what makes every story beautiful. We need to spread diversity, not shoot it down. The world has room for another story of a girl traveling to save the world, and this time, it's S.E. Asia's turn.