Art, Soul and Nothing but Skulls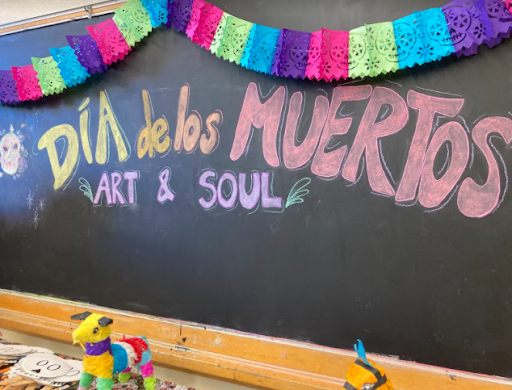 By Liana Ngauv
Co-Editor-in-Chief
Because of the recent celebratory hispanic holiday, Dia de los Muertos, The Gallery (an organization by the Museum Studies class and art department) at Millikan produced their first art showcase of the 2021-2022 school year displaying student art. In addition, Millikan's front office had an ofrenda (an altar) in dedication to the celebration of life and death.
"[The ofrenda] is to celebrate the day. It's bringing back the stories and the memories of the living so ancestors can come back to life through those stories and mementos," Veronica Bustamante, Intermediate Office Assistant, says.
Also in celebration, the La Raza Club hosted a mariachi band and folklorico dancers, while selling pan de muertos (bread of the dead) for one dollar. The mariachi band covered the song, "Amor Eterno" by Juan Gabriel. The song describes eternal love for someone who had passed away; this song is played mostly at funerals.
Photo Courtesy of Maria Towne
This picture depicts the office ofrenda.
The art was produced by all the students in the art department regardless of class level. The students had an option to submit their artwork to the gallery in which the Museum Studies class preserves them.
Museum Studies teacher, Tiffaney Gardea, says, "This was the first in-person show in [about] 2 years. I think I have half of the students I had last year but even in a short amount of time; they owned it."
Photo Courtesy of Bella Towne
This picture depicts Museum Studies class setting up the Art Gallery.
Museum Studies, a class in which anyone can join, is a major part of The Gallery and set up the exhibit. The curators from Museum Studies chose the artwork that was be presented in the Día de Muertos: Art and Soul exhibit.
The Día de Muertos: Art and Soul gallery took place on November 2 (3:00 p.m. – 4:00 p.m.) and 5 (6:00 p.m. – 7:30 p.m.). For more information and news regarding The Gallery, check The Gallery's website.