As the Girl's Volleyball season is wrapping up officially on Oct. 10, against Lakewood High School, we can look back at their achievements. These hard-working girls have had an up-and-down season with a 44% win rate, finishing third in Moore League.
Girls volleyball kicked off their season with their first game on Aug. 12 against Saint Joseph, where they lost 3-1. The team then had a losing streak of three losses but came back and beat St. Anthony 3-0.
Despite the Ram's lackluster start, the girls came back with a two-game win streak against Compton and Cabrillo, but were shut down against Long Beach Poly on Sep. 13. The ending score was 3-0.
PEACE Senior, Gracie Berger is a member of the Girls Volleyball Varsity team. She believes that the new players have been great additions to the team.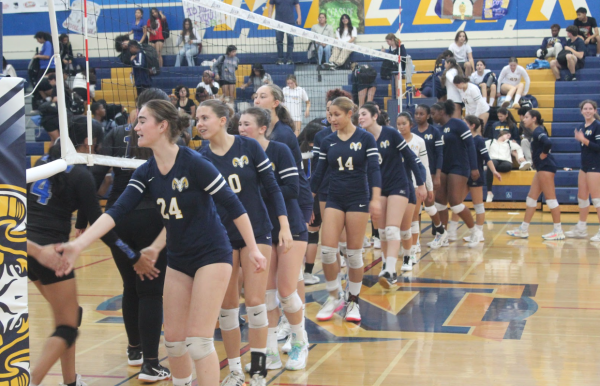 "Instead of a potential setback, our youth has become our greatest asset, infusing our journey with enthusiasm and boundless potential," said Berger.
Berger added, "Maintaining a positive mindset as a team while striving for unity has consistently been our foremost objective." With their emphasis on constructive communication and culture of resilience, they are sure to build great relationships along the way. 
After multiple attempts, we were unable to get an interview with the team's coach.
On Oct. 3, Millikan's Girls Volleyball Senior Night will take place. It will take place at 5:30 in the big gym. Make sure to go and celebrate their last year as Rams.