The Musicians Solving a Puzzle
The Winter Percussion season was a huge success this year, with Millikan's team getting high overall placements and our performers going home with medals!
In an email sent out to all staff by Band Director and Music teacher Cindy Luu-Campos it states, "Winter Percussion performed at the Toyota Arena for Ontario state finals. It was an invite only tournament taking only 50 of the states top ensembles. Our winter percussion placed 3rd overall, out performing the over 200 percussion ensembles in California."
Winter Percussion is a percussion, music, and visual ensemble that performs shows and competes a during the Winter and Springtime.
The Winter Percussion show this year was themed to solving a puzzle and was titled, "Everything Looks Perfect From Far Away." The show concept was about a celebration of the work it takes to put together the puzzle of an ensemble. The process of making connections between previously disconnected individuals leads to the beautiful performance that is seen at the end.
This percussion season included new staff members with one of the new instructors being Millikan Alumni Aydan Marquez. While teaching this ensemble, he also studied Music education at Long Beach City College and performed with a non-school independent world class percussion ensemble called Vessel Indoor Percussion. 
"Doing music in college, doing music outside of college, and coaching musicians is a dangerous game doing all of that at the same time, but everybody who does this activity has the same life," says Marquez. "It's just a matter of balancing out your life as a performer and that's what I've been able to do."
For Millikan's 2023 season, they competed in the Southern California Percussion Alliance (SCPA). They traveled all across Southern California competing against other Southern California Schools. The division that they competed in was the Percussion Scholastic A class which is the lowest high school division.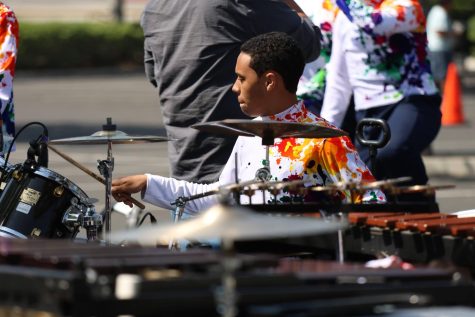 Throughout Millikan's season they have gotten nothing but success, getting as high as first place and as low as third place in their rounds at all of their competitions. 
When they went to their championship preliminary competition at Azusa Pacific University, they got a score of 90.850 out of 100, getting first place not just in their round, but in all of the Percussion Scholastic A class division which was out of 50 schools.
"I can say for certain that this season will forever stick with me as a special one," says QUEST junior and drumline captain David Galindo.
This ensemble has had so much excitement and success this past winter and spring. We wish the best for this ensemble for future seasons!