Mutts Cuts LBC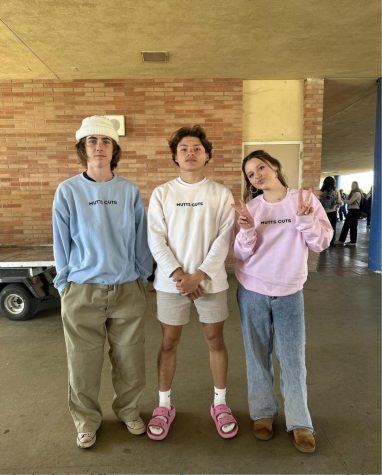 This month marks the one-year anniversary of the Millikan student-run small business, Mutts Cuts LBC.
Mutts Cuts is founded and run by MBA freshman Diego Garcia. The whole business was started because of a bet.
"The bet was that if he lost the bet I could shave his head," said Garcia.
They planned to shave his friend's head during lunch in their middle school's bathroom. Shortly after shaving his friend's hair, others began asking for him to cut his hair as well.
"I began cutting friends' hair at my house and soon I was mentoring under another barber and learning from YouTube," said Garcia.
Garcia is a completely self-taught barber, with the exception of a few barber friends who mentored him. 
"Shout out to Tamara, Todd, and Rosy," said Garcia. "They were always there to help me."
Despite what the name may imply, the small business is a people barber, not a dog groomer. The name came from a random person yelling out "Mutts Cuts" one day while cutting hair in the bathroom. The name kinda just stuck, and they began to officially call it Mutts Cuts on flyers they posted around their school.
Garcia cuts hair out of his garage and each cut is only ten dollars. As a student-athlete, all appointments are on weekends to allow time for homework and sports during the week. 
Throughout the last year, his business has grown. In the beginning, his setup was fairly simple. As his clients grew, Garcia began to invest in more professional equipment, like quality clippers and cleaning supplies. 
"This allowed me to take this hobby more seriously and the results have been great," he said.
Mutts Cuts has also developed a steady customer base and has about fifteen to twenty customers a month. 
Now, they offer more than just haircuts. They also offer merchandise! Maybe you have seen some Millikan students sporting off their Mutts Cutts crewnecks around campus. 
"It's so satisfying to see so many people in Long Beach support and wear my brand," said Garcia. 
As for the merch sales, according to Gracia, they have been profitable. The company is also in the process of changing the way merch is manufactured from at home to being done online. This process will be more time efficient and profitable.
Garcia wishes to expand his merch sales and become a known brand in Long Beach. 
As for right now, there will be an upcoming merchandise drop celebrating the one-year anniversary of Mutts Cuts. 
To book an appointment, contact the number on their website, or message their Instagram account (mutts_cuts_lbc). If you're ever in the market for an affordable haircut, check out Mutts Cuts LBC!