Men's Volleyball Serving A New Season
Our men's volleyball team had an impressive season this year! With a young core on all three levels, most rosters have dominated the Moore League standings. The varsity team finished their season on April 20th with a 10-3 record. 
Their athletic varsity team finished their Moore League run by winning their last three games against Lakewood, Cabrillo, and Poly. Despite winning their first three games, they had a four game losing streak which bumped them down in the standings but they eventually got it together. They went on to win their next seven out of eight games then went back and forth at tournaments by continuously winning and losing each game. They finished the season near the top of the Moore League standing by winning their last nine out of ten games to close out the regular season. 
After Moore League, it was time for the varsity team to compete for CIF. In their first CIF game, they completed a 3-0 sweep against Santiago. Sadly, their late seas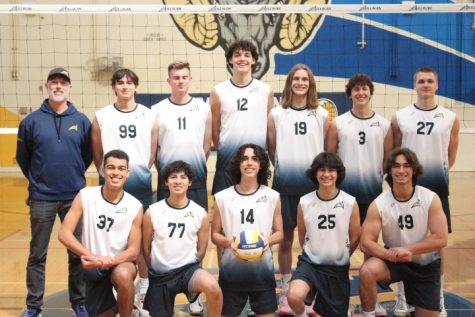 on run came to an end, falling to Servite, losing 0-3. 
"I thought we did pretty well especially in light of our two division jump from division four to division two," says Coach Johnson, who is also a Millikan English teacher for seniors. "We didn't have a perfect season by any stretch but showed improvement."
Despite the varsity team making it the farthest into the postseason, the boys Frosh/Soph and JV still had great seasons with impressive records! 
The JV team had an outstanding near-undefeated season with 27 wins and only one loss. They ended up dominating Moore League and winning the title. 
"I'm proud of what this team has accomplished so far," says MBA freshman and JV team member Jake Karkanen. "I know we have potential to do better next year." 
The Frosh/Soph team didn't win the Moore League title, but still performed at a high level this year. They won three games with seven losses, but will strive to do even better next year.
Even with the rosters changing next season due to graduating seniors and incoming freshmen, there are still high hopes and even higher expectations for this team's future!
 Anyone interested in learning more about the teams, can follow their public Instagram.