And The Winners Are…
The Ram Pageant took place on Mar. 24th, 2023. This event was held in the Millikan auditorium, where our audience witnessed amazing performances from our talented seniors Logan Vallianos- Healy, Kenza Moore, Maggie Jenkins, Zachary Upson, Elana Levin, Jonathan Vital, Sydnee Thy, Jake Ritter, Brittany Mendoza, Joaquin Iglesia, Addison Lindstrom, Dylan Peacock, Emma Morgan, Mason Calimquim, Jade Perez, and Matthew Palacios.
 The theme of this years pageant was A Star Is Born, attracting many people to the event. Our auditorium was full of supporters who showed their interest through loud cheering and yelling as the contestants performed. Millikan's morning announcers Chukwuoma Uchegbulam and Natalie Heilig we the hosts for the 2023 Ram Pageant.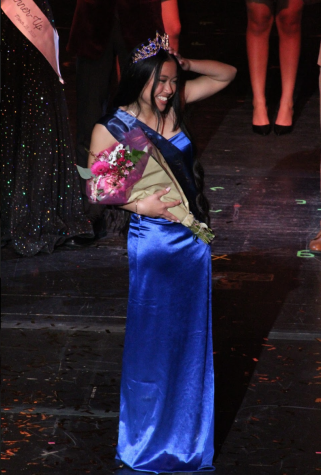 All of the participants did an amazing job at showcasing their creative presentation skills. The winners of the 2023 Ram Pageant were Sydnee Thy, QUEST senior, and Matthew Palacios, a senior in COMPASS. 
Sydnee Thy performed a classic Cambodian dance as her talent. 
"I have been dancing since I was five and it's defined me as who I see myself as today. It has taught me discipline, hard work, patience, and resiliency," says Thy, "Dancing in front of the people I loved, and an audience unfamiliar with the art form, made me confident in my abilities." 
Matthew Palacios performed a comedic song and dance number. 
"The opportunity to perform and make a mark at Millikan in my senior year inspired me to run," said Palacios. 
In all pageants, there are a ton of talented people with amazing and impressive skills, but there must be a winner. All contestants were humble, rooted each other on, and were, most importantly, having a great time. They all worked together and spent time meeting new people as they put together the production. 
These contestants spent hours preparing for the pageants with rehearsals and preparation outside of school hours. 
"It took me three weeks to prepare for the Ram Pageant," said Thy. "I had to make time everyday to practice the dance a little, and brainstorm for my costume and poses. Our rehearsals with everyone were actually some of my best memories of this school year." 
Both winners agree that the people made the experience memorable, rather than the win or the title. Congratulations to all contestants and the winners, we thank you for the entertainment and your dedication too. You are all winners in the heart of Millikan!