Lights, Camera, Fashion!
Keep your calendars open for May 17 at 7 p.m.! The annual Millikan fashion show is returning to the front of the Robert L. Brigham Auditorium gate. For the first time since 2014, it is independent of Open House. 
"For us to do this without the Open House crowd means that we really just need to be self-sufficient," says Intro To- and Advanced Fashion teacher Ms. Palsgrove.
This year's show theme is Synesthesia. Synesthesia is the idea that you perceive things together. So a person with synesthesia will see shapes and colors while listening to music. 
"It's rock and roll, it's music, it's super fun," says Palsgrove.
The theme came from the idea of combining music and fashion and showcasing fashion through the decades.
The fashion students got to vote on the theme. Once everyone learned what synesthesia meant, no other theme fit with the music in fashion concept quite as perfectly.
The actual length of the show will be determined on the day. It all depends on the number of models and looks.
Typically, a first-year fashion student does a single look, a second year does two looks, a third year does three, and a fourth year does four. However, some of the designers are very committed and are considering doing up to ten looks.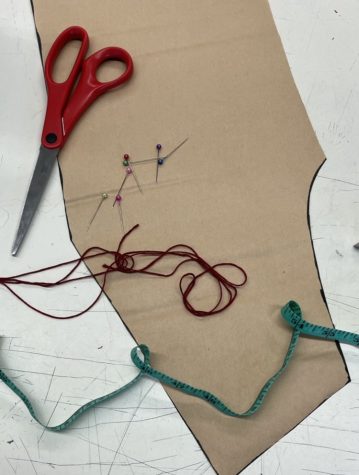 QUEST senior and fashion president Natalie Canela is in her fourth and final year in the fashion program. She plans on doing ten to twelve looks, depending on what time allows. The theme surrounding her collection is 70's cowboy and very western inspired.
"I heard the song 'These Boots Were Made For Walking' and loved it, and I just thought that that was different and no one would do it," says Canela.
Her collection for this year is completely different from the collections she's done in the past. This is also true for the entirety of the show. There will be fun surprises throughout, including an opening number by Millikan's very own advanced dance team. 
With 150 fashion students becoming designers for the show, there's no telling how many looks they will produce. Last year, there were 280 models.
"I suspect that this year will be bigger," says Palsgrove. "The kids are fashionistas, they're crazy." 
Needless to say, this year's show will certainly be one for the record books.
"I'm excited to see everyone looks because I think it's going to be very different from what we've done in the past, and I'm excited to have it all come together," says Canela.
The show is completely free, so invite a friend! It will begin at 7 p.m. and have a hard cut-off time of 9:30 p.m. to avoid any possible noise complaints