Get Ahead With Dual Enrollment
Dual enrollment is an advantageous resource that gives students the freedom to obtain college credits in high school while getting ahead in their academic careers. 
Dual enrollment is a program that all students, regardless of grade level, should consider because it provides long-term academic and financial benefits that will help students save time and money in their future college plans. 
This article is a collection of resources and statements to help advise prospective Long Beach Unified School District (LBUSD) students on dual enrollment advantages. 
"The benefit to high school students, especially in LBUSD, is they don't have to pay that tuition fee. They still have to pay student fees or health fees depending on the class but they don't have to worry about the tuition, which is a barrier for students," said Outreach and Recruitment Specialist for Long Beach City College Laura Zhang who specializes in providing information to high school students on dual enrollment.
In a partnership between LBUSD and Long Beach City College (LBCC), students can take college classes through the Early College Initiatives department. Students can decide to take the Early College Pathway Partnership (ECPP) or the Individual Dual Enrollment (IDE).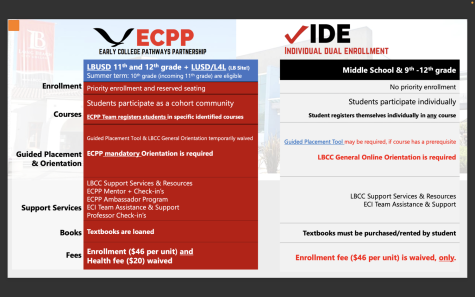 The ECPP contains a curated list of courses that are available to juniors and seniors and LBCC provides tutors and textbooks. Meanwhile, IDE allows middle through high school students to take any course as long as they meet the required prerequisites. 
"Many juniors and seniors choose dual enrollment classes because when they're a senior and they're applying to Cal States, UC's, or private [schools], some classes do count as college credit, so they don't have to take [the course] again when they get to college," Zhang said.
QUEST junior Daisy Ortiz has taken four classes in-person and online at LBCC.
"I was curious. Dual enrollment sounded really interesting and then hearing I could get college credit, I was like, why not?" Ortiz said.
For Ortiz, college courses are "guaranteed credits" that are unlike Advanced Placement (AP) courses that depend on whether or not you pass the AP exam. 
"Depending on the professor, a college-level course may even be easier than its equivalent AP class," said QUEST junior John Pok who has been taking dual enrollment courses since his freshman year at LBCC. 
Dual enrollment can help students find classes to fit their schedules such as PEACE sophomore Taylor Koat. "I like dual enrollment because I am able to get work done on my own time and I was able to work it around my sports schedule," she said. 
However, make no mistake! College classes are meant for college students and that means the courses won't be easy.
"Dual enrollment is getting you ready for the workload," Koet said. "A college class is the workload of a college class so it prepares you for the future." 
"A big component of dual enrollment is time management because you just have to be able to take your own time to do the homework," Ortiz said.  
Dual enrollment can sound intimidating, but Zhang says that high school students have and continue to thrive in college courses with high success rates.
Before students sign up for dual enrollment, students should first check if they are academically eligible, if the community college has the course they needed, and if the class credits will transfer over to a four-year university. Students can find this information on the LBCC website or they can communicate with Millikan or LBCC counselors. 
All students should take time to look into dual enrollment to see which program is the right fit for them. Once participating in dual enrollment, students will grow academically and independently into adults getting ready for college after high school. 
As Pok said, "For those who do want a challenge, though, it can be very rewarding and save lots of time and money down the road." 
To find more information on dual enrollment, click here.