Spiking on the Sand
Spiking in the sand, the Millikan Girls Volleyball beach season has begun. After spending the fall season indoors making playoffs, it's now time for a new team and a new environment outdoors.
The beach team so far have had a solid start to their season, beating St. Anthony in preseason and then beating Poly to start off their Moore League season. The final score for both matches was 3-2. The Beach Volleyball season is for girls only and the team starts playing at the beginning of February and ends in the middle of April. The Rams practice at Belmont Shore Beach, but play at the beach volleyball courts at Long Beach City College.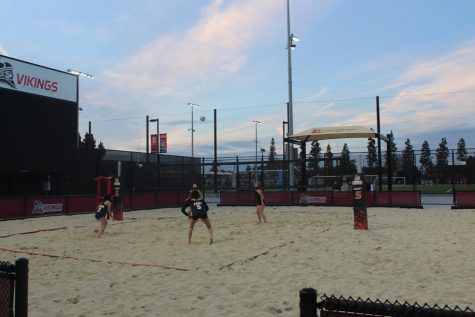 "Although it has a similar degree of competition compared to indoor, the overall easy going environment is much more unique to beach volleyball," says co-team captain QUEST junior Olivia Smith.
Throughout the entire month of March and the beginning of April, the girls are in the Moore League taking on schools such as Jordan, Poly, Lakewood, Cabrillo, and Wilson. Then they would move on to the Moore League playoffs.
"My hopes are that these girls see success on the court. This is such a challenging and exhausting sport, so picking it up can be frustrating at first. They've already grown so much as players, but seeing their progress turn into points is always extra encouragement," says Cox.
Their upcoming game will be on Thursday, Mar 30, at the Long Beach City College Beach Volleyball courts against Jordan at 5:15pm.
This beach volleyball program is brand new here at Millikan with it being just its second year in existence.
"In the next few years to come I hope others join beach volleyball at Millikan because it's a great new program that can help people stay in shape no matter if you're good at volleyball or not," says PEACE junior Gracie Berger.
Looking forward and wishing the best for the Beach Volleyball team's 2023 and future seasons!