Scholarship Opportunities
"I'm applying for a scholarship to LBCC at the College and Career Center," says Emely Hernandez, an MBA senior. "The process is going slowly, but they have been really helpful." 
Many students like her have applied and benefited from scholarships. Here is a list of scholarships for this school year.
Scholarships don't just help students with financial aid and tuition but can help buy things like computers, transportation, or meals. Scholarships will specify whether they can only be spent on tuition, textbooks, or at the receiver's discretion.
"All the scholarships I've seen only allow students to spend their scholarship money once they become a college freshman or high school graduate," said Dr. R, Millikan's MBA  counselor of the MBA Pathway.
Schools tend to share local scholarships, which are unique to Long Beach or specific to Long Beach students. Scholarship opportunities are shared between counselors and the College and Career Center, so Millikan students have a lot of resources and adults to turn to. Students can also find scholarship opportunities in their emails.
One important scholarship to point out is one offered by CSULB until Mar 31 to black students. They are offering a full-ride scholarship for black graduating seniors and college students going to their school. The Roberta and Matthew Jenkins Scholarship is open to those who are applying to CSULB or have already been accepted or attending the college, and who live in the Greater Long Beach area.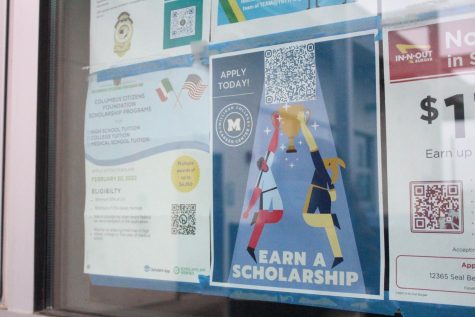 There are many different types of scholarship opportunities that students can apply for. There are some for HBCUs (Historically Black Colleges and Universities), sports, fashion, and scholarships to specific colleges. For questions, you can contact the College and Career Center, your counselor, or even a teacher.
The important thing to remember is that there are many school counselors who are here to specifically help Millikan students, like Mr. Booth, the counselor of the SEGA Pathway at Millikan.
"I was a first-generation college student, and my counselor helped me through the scholarship process," said Mr. Booth. "My counselor sat me down and had me apply for multiple scholarships. It's the reason why I became a counselor, to help other students through the process."
If you need financial aid, any support going to college, or even help to get regular day necessities don't hesitate to ask for help from the supportive adults here at Millikan. And the cool thing is, you don't need to be a senior to apply for scholarships. Students can start applying for scholarships from elementary school. While most scholarship money can only be spent after high school graduation, applying for scholarships early will ensure that you have the right resources to go college.