The Wi-Fi Struggle
It's textbook knowledge that to use mobile devices, you need Wi-Fi. Fortunately, the Long Beach Unified School District (LBUSD) provides Wi-Fi for students and staff. Unfortunately, the low quality often overshadows the fact that the Wi-Fi is free. 
Students and teachers are frustrated with the performance of the Wi-Fi for their phones and computers, but LBUSD did not plan to accommodate all the devices on the school campus. 
"It is important to realize that the intent of the Wi-Fi, as it exists today, is not to provide coverage everywhere at a school. It was designed to provide Wi-Fi coverage in what we call instructional areas, which basically means classrooms," said Matthew Woods, Executive Director of Technology and Information Services at LBUSD. 
Yet, students and teachers continue to deal with a slow working network that leads to online problems such as students not being able to log onto computers, the internet not loading when using class Chromebooks, and the inability to use cellphones without lag. 
To resolve the technology problems of students and teachers, Millikan High School needs a Wi-Fi network that matches the needs of the school that will improve the students' education and their high school experience. 
"A lot of the times it's hard for students to even get access to their assignments because it takes so long to load," said SEGA senior Nathaniel De Guia. "Wi-Fi is very important, it's a big part of life now especially because the internet is where everything is."
Even teachers sympathize with the frustration when their lessons depend on online resources. 
Head SEGA teacher Amy Becker said, "When we do game development in this building, the Wi-Fi helps students to build the game faster, they get less frustrated and you can troubleshoot errors quicker." 
A faster Wi-Fi network would improve the quality of classroom lessons and elevate students' and teachers' confidence with technology instead of dealing with computer lag. 
Limited cellular connection is another big issue at school.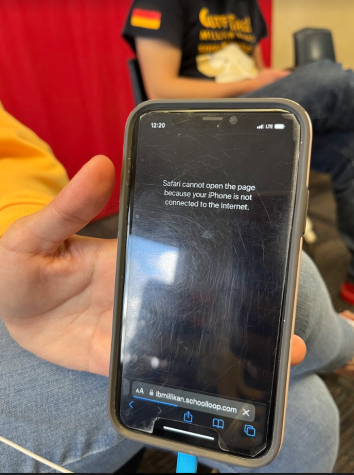 "I've noticed in the last couple of years that I can't get anything done on my phone on campus," AP French teacher and eSports Coach Gray Lange said, "I use Discord a lot for the eSports team and I can't get onto Discord here [Millikan Campus]. Which makes it very hard to coach the eSports team."
The available LBUSD network contains a password protocol that logs the user off after a short period of time, disappointing students and staff at Millikan.  
"I have a Wi-Fi router in my room, so the Wi-Fi should be good here but I think it's because of whatever they're [LBUSD] using, it's hard to connect to Wi-Fi. So I don't even use the Wi-Fi on campus," Lange said.
Students and teachers can complain all they want, but LBUSD ultimately decides which Wi-Fi network to use and how to distribute it. So what does LBUSD have to say about it?
"We at any given time have well over 100,000 people on the Wi-Fi. Which is way more than we have physically wired into anything," Woods said.
For those classes that seem to never have good Wi-Fi, Woods advises teachers and administrators to use the ticketing system if they have specific technology issues. 
"We have a ticketing system that teachers and administrators use to call in if they're having issues, if we're talking about Wi Fi it would be issues about coverage or performance. And then we see if the system is operating as designed or if the person reporting the issue is simply trying to use the Wi Fi where it was never set up to work," Woods said.
The Wi-Fi is a debatable issue that won't be resolved overnight. Students and teachers want a better network for all their devices, but LBUSD focuses on providing internet specifically for classrooms. 
Despite the conflict of interest, the Wi-Fi struggle at Millikan High School is real. The Rams do deserve a faster and easily accessible Wi-Fi network that will enhance a student's education and help pave their future.
As Millikan SEGA Senior De Guia states, "Better Wi-Fi means faster access to what students need."