Teacher Features: Ms. Cunningham and Ms. Barboza
Welcome back Rams! We have two more new members of Millikan's wonderful faculty this '22-'23 school year. 
First up we have Ms. Barboza, an AP Statistics and Algebra 2 Accelerated teacher. This will be her fifth year teaching Algebra 2, but her first year in the Ram community. She previously worked at the senior campus of Paramount High School, which she describes as much larger than Millikan.
She has expressed that her favorite part of Millikan so far is all the opportunities that students are offered to become more involved in the community. 
Before becoming a teacher she obtained her Bachelor's degree in Mathematics, Teaching Credential, and her Masters Degree in Curriculum and Instruction, all from California State University Long Beach. 
"I enjoy making connections with other colleagues and students because I get to learn new things from them," Barboza said.
Feel free to give Ms. Barboza restaurant recommendations as she loves to explore these recommendations on the weekends. Along with this, she enjoys going on hikes with colleagues and to run around Long Beach.
Next up we have Ms. Cunningham, who is not actually a teacher. She is one of the Speech and Language Pathologists, but she commonly refers to herself as the Speech teacher because it's easier.
"I chose this profession because I loved the interface of language and communication with the brain. It's fascinating!" Cunningham said."We still know so little about how our brains work."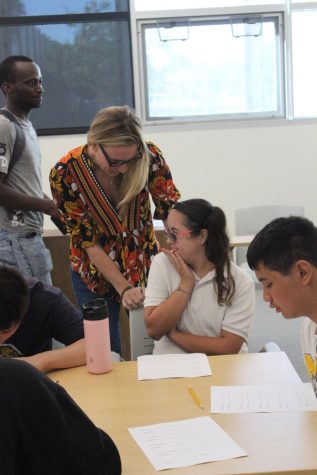 She also emphasizes how crucial communication is and the importance of being able to express yourself in order to feel connected.
Previously, Cunningham worked in a hospital with people of all ages recovering from traumatic brain injuries. She later lived in Santa Monica and Culver City where she worked with kids, generally younger ones. 
It wasn't until 2016 when she moved back to Long Beach that she started working in local highschools. Cunningham had the honor of returning to teach at the same school she learned in, as she was a former Ram. 
"So was my mother and all of her brothers," said Cunningham.
She has two little boys who will most likely be Rams themselves one day. Their love for baseball has attracted Ms. Cunningham to the sport she once felt was "too slow and took too long." 
Her sense of humor and presence can be comforting which is exactly what she strives for when trying to build a sense of community and support for students at Millikan.
What we can gather from staff members here at Millikan, is the support that we as students have. There are still plenty more teachers to spotlight, stay tuned!